Generation by Generation, Where Voters Stand on Same-Sex Marriage
By Tamara Lytle , March 27, 2013 06:05 PM
As the U.S. Supreme Court took up two seminal cases on same-sex marriage, the media speculated about whether the justices were in step with public opinion. But what is the public's opinion? When you look at the issue by generation, there's a wide divide.
More members of Generation X (born 1965-1980) and Millennials (born after 1980) favor marriage equality than oppose it, according to a Pew Research Center poll in March. Not so for the Silent Generation (born 1928-1945) or boomers (born 1946-1964), though both generations are increasingly changing in favor.
Social conservatives say polling overestimates support for same-sex marriage. Once actually in a voting booth, people are more likely to oppose same-sex marriage measures than they admit to pollsters, the Washington Post reports.
Still, public opinion on the issue has shifted dramatically during the past 10 years among all age groups. Even Republicans over age 50 increasingly support the idea, according to the Washington Post.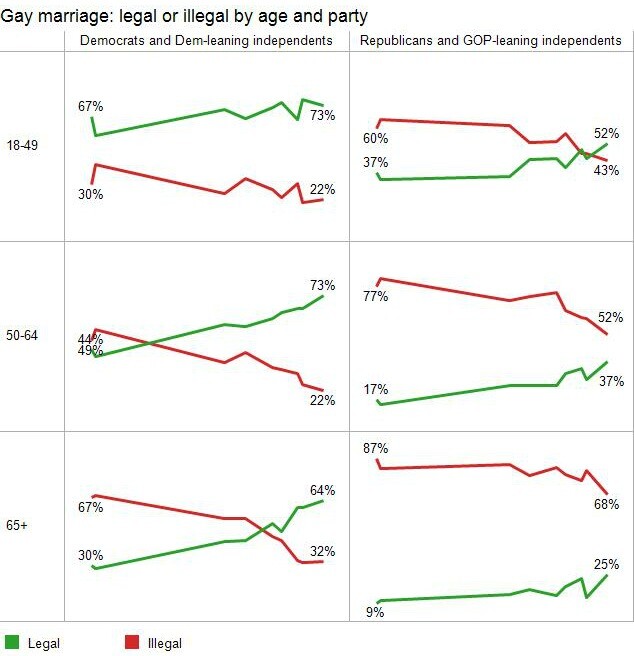 Washington Post-ABC News polls, 2004-2013
But among the justices who will make the ruling, the youngest, Elena Kagan, is a 52-year-old boomer. The court divides 5-4 by generation, with boomers holding an edge over the Silent Generation.
Also of Interest
The Supreme Court and Same-Sex Marriage: What's at Stake for Older Gay Couples
Finding Strength to Leave a Relationship: Dr. Pepper Schwartz, AARP Sex & Relationships Expert
Join AARP: Savings, resources and news for your well-being
See the AARP home page for deals, savings tips, trivia and more