Harrison Ford: High-Flying Political Activist
By Patrick Kiger , March 22, 2013 11:50 AM
Sometimes it's pretty tough to get the attention of lawmakers on Capitol Hill. But politicians, fortunately, are as starstruck as the rest of us. That's why celebrities ranging from Angelina Jolie and Bono to George Clooney, who testified to Congress a year ago about the dire situation in war-torn Sudan, regularly descend on Washington to raise awareness for their pet causes. (Check out this AARP slideshow of the top 20 celebrity activists of all time.)
The latest superstar spokesperson to arrive in Washington: Harrison Ford.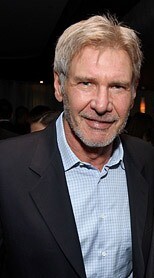 The 70-year-old star of the Indiana Jones films and the original Star Wars trilogy, among many other box-office smashes, met with the 170 members of the House General Aviation Caucus. A press release by Rep. Sam Graves (R-Mo.), who led the meeting, said that Ford - a trained pilot who flies both fixed-wing airplanes and helicopters - was there to talk in part about the economic importance of the nation's 19,000 small and regional airports. There's widespread concern that many of these airports may be crippled by $50 million in Federal Aviation Adminstration cuts to air traffic control staffing, brought on by Congress' failure to avoid the dreaded sequester. "The impact on jobs and the economy is huge," Ford told his legislative audience, according to this Washington Post account, which also described the movie star as "silver-foxy with messy white hair, navy blazer, blue shirt, no tie, glasses."
Take the Harrison Ford Movie Quotes Quiz
Though the lawmakers undoubtedly turned out to see the pilot of the Millennium Falcon, Ford actually is an accomplished aviator in real life. He began taking $15-an-hour flying lessons in Wisconsin in the 1960s, long before he became a movie star, but didn't get into flying in earnest until the mid-1990s, when he purchased a Gulfstream II and asked one of his pilots to give him lessons, according to the aviation website AvStop.com. His favorite plane is a de Havilland Canada DHC-2 Beaver, partly because he likes the sound of its Pratt & Whitney engine. In 2010, he flew another of his aircraft, a Cessna 208 Caravan, to earthquake-stricken Haiti and led a humanitarian airlift of medical volunteers and supplies. He told an aviation conference in 2012 that learning to fly has helped him to reinvent his life. "When people asked me what I did [before], I said I was an actor, [but I] didn't want to go off into the sunset having only done one thing." Since then, he quipped, "I've been working for a living, to support my airplane habit."
Let's hope that Ford's foray into aviation-related political activism won't prove as hair-raising as his experience portraying the president in the 1997 thriller Air Force One.
Photo: Gavatron via Wikipedia