Medicare and the Marketplace: 4 Things You Need to Know
By Tamara Lytle, September 30, 2013 02:23 PM
There's a lot to understand about the health insurance marketplace that opens on Oct. 1 - not to mention the Affordable Care Act (or "Obamacare"), which created it. But if you're on Medicare, there's really nothing to be confused about.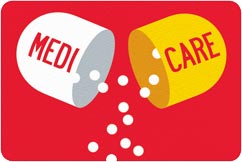 Here are key facts to remember:

If you're on Medicare, don't worry about the marketplace. The new health exchanges, as they've also been called, are for people without insurance. Medicare beneficiaries will continue to have Medicare. Unfortunately, there's a lot of misinformation out there; about 17 percent of Medicare beneficiaries incorrectly believe they need to enroll in the new marketplace, according to USA Today, citing a survey by Express Scripts, an independent prescription-filling company.
The eligibility age for Medicare isn't changing. About a third of the older adults surveyed by Express Scripts believe it's going up.
You can't enroll in Medicare through the marketplace. One in five older adults erroneously believes you can. Medicare's open enrollment period begins Oct. 15 and ends Dec. 7. If you want to keep your current coverage, there's nothing to worry about, but if you wants to shop for a different Medicare health or drug plan, you can do it then. There's more information about open enrollment for Medicare here.
Prescription drug costs for those who fall in the coverage gap called the "doughnut hole" are going down. Half the people surveyed thought their prescription costs in the "doughnut hole" have gone up, but they've actually gone down by a total of about $7 billion nationwide, according to the Centers for Medicare & Medicaid Services. "Most seniors don't understand the savings to the doughnut hole at all," Rebecca Rabbit, a vice president of Express Scripts, told USA Today. "Generally, their costs are not going to go up. Most people will see their costs go down."
Confusion is a breeding ground for fraud. It's against the law for someone to knowingly sell a Medicare beneficiary a marketplace plan.



Also of Interest

Join AARP: Savings, resources and news for your well-being


See the AARP home page for deals, savings tips, trivia and more