Is Your Job Killing You ... Literally?
By Tamara Lytle , May 01, 2013 01:02 PM
The rate of fatal work injuries across the nation is dropping. But workers 65 and older are more than four times as likely to sustain fatal on-the-job injuries as workers in their 20s, according to a new report from the Bureau of Labor Statistics.
Overall, the BLS's Census of Fatal Occupational Injuries shows that once workers hit the age of 35, their risk of sustaining fatal on-the-job injuries - everything from roadway deaths involving motor vehicles to work-related homicides and suicides - climbs steadily.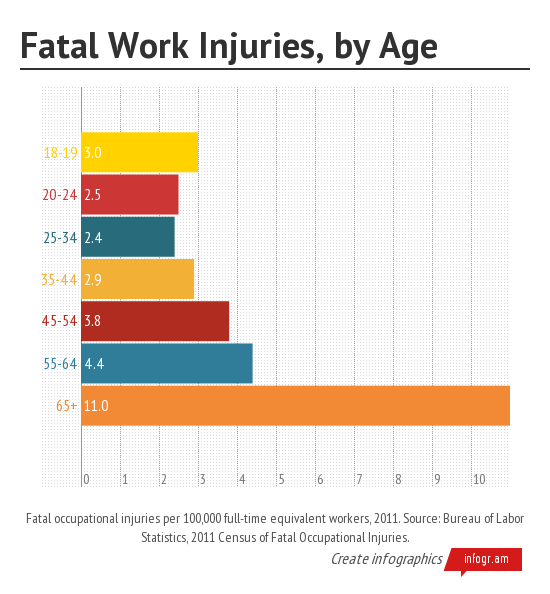 One reason is that older workers have a harder time recovering from injuries. And the prevalence of older workers in agricultural jobs is also a factor, since it's often harder to quickly reach people injured at rural or remote work sites are remote.
The Center for Public Integrity points out that many of fatal injuries aren't the result of high-profile accidents like the recent explosion at a fertilizer plant in West, Texas, that took at least 15 lives and injured about 200 people.
"The Texas plant explosion is the kind of catastrophe that really grabs the public's attention," Tom O'Connor, executive director of the National Council for Occupational Safety and Health, told the Center. "But that's about the same number of people who die every day in the United States in ways that are much quieter and hidden from public view. ... Looking through the BLS data, you see some really simple, easily preventable causes of death: people falling off roofs, people dying in trench cave-ins, people falling off ladders, people dying in confined spaces."
Dr. L. Casey Chosewood of the National Institute for Occupational Safety and Health, which is part of the Centers for Disease Control and Prevention, points out that older workers have fewer non-fatal injuries than their younger counterparts. "But when an injury occurs," he writes, "the injury tends to be more severe and it takes longer for the worker to recover."
Check out Dr. Chosewood's 10 strategies for keeping workers safer and healthier and any age.
Also of Interest

Join AARP: Savings, resources and news for your well-being
See the AARP home page for deals, savings tips, trivia and more