Poker Photo Flushes McCain's Pastime Into the Open
By Tamara Lytle, September 5, 2013 03:36 PM
There was Secretary of State John Kerry, briefing members of the Senate Foreign Relations Committee on using military force in Syria.

And there, as the hearing wore on, was Sen. John McCain (R-Ariz.) passing time by playing poker on his iPhone as Kerry talked. From behind McCain, an eagle-eyed photographer for the Washington Post snapped a photo of what she saw, which was soon dispatched to the rest of the world via the Internet, triggering a virtual tidal wave of reaction.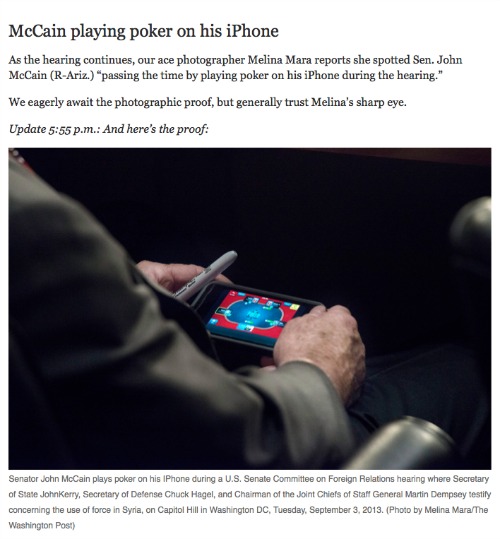 McCain is hardly the first politician to play his cards wrong in public. The Post, in fact, soon followed its scooplet with a "Great Moments in Boredom" slideshow featuring famous and not-so-famous folk caught in the act of yawning, nodding off or otherwise yielding to snoozy temptation.

McCain gamely responded to the big brouhaha with this tweet: "Scandal! Caught playing iPhone game at 3+ hour Senate hearing - worst of all I lost!"

Scandal! Caught playing iPhone game at 3+ hour Senate hearing - worst of all I lost!

— John McCain (@SenJohnMcCain) September 3, 2013

Sure, maybe McCain was engaged in a trivial pursuit during an important hearing. But at least he was awake.



Also of Interest



See the AARP home page for deals, savings tips, trivia and more