Richard Nixon's Last Epithet
By Bill Hogan, August 23, 2013 02:45 PM
As the Senate Watergate Committee was turning up the heat on President Richard M. Nixon and his closest associates in 1973, chairman Sam Ervin, a North Carolina Democrat, became something of a national folk hero. At his death in 1985,
one newspaper remembered him
as "a latter-day Diogenes bent on finding the truth in an era of Watergate lies."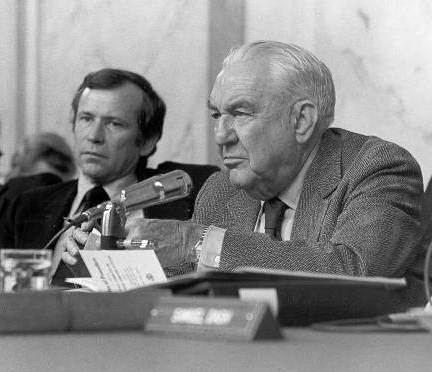 But to Nixon, the courtly, 76-year-old Ervin was something else altogether.
"The president of the United States can't be kicked around by a goddamned senile senator," Nixon raged to White House Chief of Staff Alexander Haig on July 12.
The epithet can be heard in the
final installment of the Nixon recordings
- 2,905 conversations totaling approximately 340 hours - released on Aug. 21 by the
Nixon Presidential Library and Museum
in Yorba Linda, Calif.
A few months before Nixon's railed against Ervin, the secret White House recording system captured the president making disparaging remarks about Jews, blacks, Italian-Americans and Irish-Americans. The slurs came just moments after Nixon assured Charles W. Colson, one of his senior advisers, that he was not prejudiced.
We learned from the late Robert N. Butler - scholar, psychiatrist, Pulitzer Prize-winning author - that
ageism
is a form of
bigotry
. But the lesson was lost on Nixon, who called Dwight D. Eisenhower, his political benefactor and savior, a "damned old fool" and, by other accounts, referred to him from time to time as "that senile old bastard."
Here's a video from NBC News featuring Nixon's rant about Ervin, with the "g" word edited out:
Also of Interest
Join AARP: Savings, resources and news for your well-being


See the AARP home page for deals, savings tips, trivia and more