Robert Strauss, Former Democratic Chairman, Dealmaker, Dies at 95
By Tamara Lytle , March 24, 2014 09:48 AM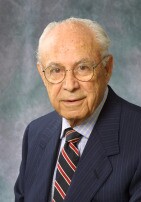 Robert S. Strauss, who died March 19 at age 95, was a Washington insider back when that was a compliment.
The New York Times obituary called the former Democratic chairman a "kingmaker" in a bygone era when party leaders held a lot more power.
"A loud, sometimes profane backslapper, he made his name in the nation's capital as a persuasive back-room trouble-shooter, a virtuoso of hardball negotiation and gentle suasion," BusinessWeek wrote.
Strauss helped some Democrats like Jimmy Carter get elected and advised presidents of both parties. Carter made Strauss a special trade representative to the Middle East, and President George H.W. Bush appointed him ambassador to Russia right after the breakup of the Soviet Union.
"He is absolutely the most amazing politician," former first lady Barbara Bush wrote of Strauss. "He is everybody's friend and, if he chooses, could sell you the paper off your own wall."
Strauss also founded one of the capital's most influential law firms: Akin Gump Strauss Hauer & Feld.
Photo: Akin Gump Strauss Hauer & Feld LLP