She Runs the Biggest Federal Agency - and Now May Land the Job
By Tamara Lytle, April 8, 2013 12:30 PM
President Obama first nominated Marilyn Tavenner to head the Centers for Medicare and Medicaid Services (CMS) almost 2-1/2 years ago. She's been running the agency, the federal government's largest, as acting administrator for more than a year. CMS has a $820 billion budget, oversees health insurance for 100 million Americans and is charged with implementing the health care law.

Related: Sequester Fallout: Where Will Medicare Patients Get Chemo?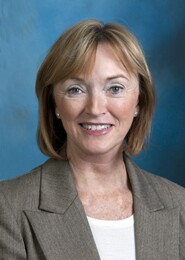 On April 9, the Senate Finance Committee will hold her confirmation hearing.

Here are five things you should know about Tavenner.



She started out as a nurse. Her first post was in intensive care at Johnson-Wills Hospital in Richmond, Va.

She has a collaborative managerial style. "I think one of the things that is so critical about how nurses view the world," she said in an interview with Nurse.com, "is that you are looking at how do you get everybody involved in the process, whether it's family, whether it's staff." She encourages discussion from all sides, but once a decision is made, she said, "We all move forward together." That doesn't sound like someone anxious to shake things up.

Her proudest accomplishment: improved electronic record-keeping. Tavenner told the Washington Post's Sarah Kliff: "... over the last few years we've passed the hump on IT adoption by hospitals, so we're seeing much higher numbers and much more sophisticated use of technology. We're seeing doctors come on board."

She sees hope for slowing increases in health care costs. Tavenner says it's not just a temporary blip from the recession. "[S]ome of the changes we're doing, whether payment reduction or delivery system reform, I think we're seeing all of those coming together in a way that's making a permanent difference."

She's the best chance for confirmation in years. The position has been a political football in the battle over Obama's health care reform. (There's been no permanent head of the agency since 2006.) But it can't hurt that on Feb. 13 House Republican Leader Eric Cantor Tweeted, "Marilyn Tavenner is eminently qualified to be Administrator of the Centers for Medicare and Medicaid Services."


Also of Interest

Join AARP: Savings, resources and news for your well-being


See the AARP home page for deals, savings tips, trivia and more