Supreme Court Victories for Same-Sex Marriage
By Steve Mencher , June 26, 2013 02:18 PM
Updated June 27, 2013.
In a ruling with deep impact on older gay and lesbian couples, the U.S. Supreme Court on June 26 struck down restrictions in the Defense of Marriage Act (DOMA) on how the federal government views same-sex unions when it comes to more than 1,100 federal benefits and laws. Here's the DOMA opinion. (PDF)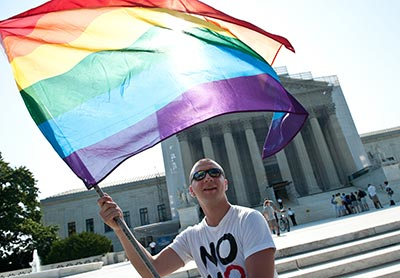 A related decision let stand a lower court ruling that threw out California's so-called Prop 8, a state ban on same-sex marriage. Neither decision requires any state to legalize gay marriage, or precludes a state from banning it.
See also: What's at Stake for Older Same-Sex Couples
Here are answers to some questions about the court's actions:
In the DOMA case, Edie Windsor, now 83, had sued the government to regain more than $350,000 in estate taxes she was required to pay after her same-sex spouse died. Will the government return her money?
Lower courts ordered a refund for Windsor, and the Supreme Court agrees.
By the way, the New Yorker reports that Windsor received a call from the president an hour after the ruling was announced: "Oh, Barack Obama?" she said. "I wanted to thank you. I think your coming out for us made such a difference throughout the country."
What happens to the 1,100 or so federal statutes that discriminated against same-sex marriages?
Justice Kennedy concludes the opinion he wrote for the 5-4 majority by saying the court's "opinion and its holding are confined" to marriages made lawful by the states. That means the statutes that discriminated all go away immediately, but only in states that grant same-sex marriages. As of today, that includes 10 states and the District of Columbia. Delaware joins the list on July 1; Minnesota and Rhode Island, Aug. 1. California will resume issuing licenses July 21.
The affected statutes apply to everything from unequal taxing of health benefits to having the ability to be buried together in veterans' cemeteries, from allowance of leave to care for a sick spouse to how Medicare and Medicaid benefits are allotted. Many Social Security benefits are affected, too.
Will the Court's ruling on DOMA affect medical decision-making for same-sex couples?
That issue remains subject to the laws of individual states.
In general, what will happen to couples in states that allow same-sex marriage if they move to states that don't?
States normally recognize marriages legally entered into in other states, even if their marriage laws are different. For example, if a same-sex couple marries in Maryland, which grants same-sex unions, and then moves to New Mexico, which doesn't specifically allow or prohibit them, you would look to how New Mexico's Supreme Court determines a valid marriage. It's possible that the New Mexico court would say that the state recognizes the Maryland marriage.
Until now legally married same-sex couples could file state taxes jointly but had to file federal taxes individually. Will that change?
Now they'll be able to file jointly for both - again, with the provision that they are living and working in a state where their marriage has been recognized. For 2013 they may be given a choice about how to file; that will be up to the IRS. After that, they'll be married couples filing their taxes like any others.
Federal tax returns can be amended within three years of the original filing date, points out Lisa Siegel, a financial adviser with a background in law, accounting and estate planning at Wells Fargo. She says that she'll encourage her clients who may have benefited from filing jointly to revisit prior years' returns.
What's the most important thing for older gay and lesbian couples to do right now to make sure they benefit from today's decisions?
"Make sure that they review their plans," Siegel says. "Don't assume. Even if you live in a [gay marriage] state and you think automatically that you get all the benefits ... you have to pull out your documents, sit down with your advisers and go over this."
It wouldn't be too early to discuss this with financial advisers in the coming days, she adds, but it may be a few weeks or even months, before individual agencies have determined how they will treat same-sex marriage, especially in circumstances where couples may move to states where their marriage isn't recognized.
Listen to Lisa Siegel's advice:
https://soundcloud.com/aarp-social-sounds/lisa-siegel-of-wells-fargo
Photo: Nicholas Kamm/AFP/Getty Images
Also of Interest

See the AARP home page for deals, savings tips, trivia and more