Why So Many Americans Put Off Medical Care
Hidalgo is a county in southern Texas just across the Rio Grande from Mexico. It's also home to the highest prevalence of U.S. adults - about 40 percent of the population- delaying necessary medical care because of cost, according to data in the March 28 New England Journal of Medicine.

The research letter in the March 28 issue of the journal found this number to vary significantly across the country and to be lower in places with less restrictive eligibility criteria for Medicaid, the federal-state insurance program for low-income citizens.
Authors found that people with incomes between 67 percent and 127 percent of the federal poverty line, which is $23,550 for a family of four, had up to a 16 percent chance of delaying care. The odds went up to 42 percent for those with lower incomes.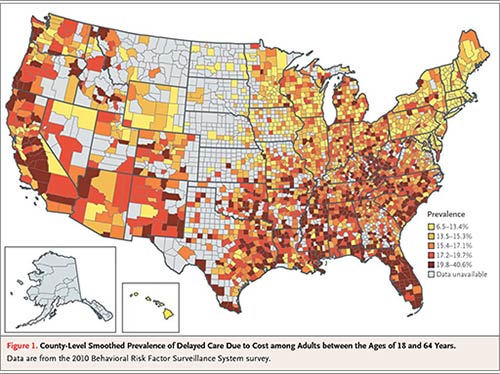 The findings come at a time when states are deciding whether to pursue the Affordable Care Act's Medicaid expansion, which would extend eligibility to adults with incomes at or below 133 percent of the poverty level.

Norfolk, Mass., with a 6.5 percent prevalence of adults delaying care, was at the opposite end of the spectrum from Hidalgo, researchers said. Massachusetts' adoption of state health reforms since 1990, including Medicaid expansions, and the state's history of investing in health care were likely reasons, said one of the authors, Dr. Cheryl Clarke from Brigham and Women's Hospital in Boston.

"We were surprised by the depth of variation between states," she said. "It's important these trends continue to be monitored."

The study's authors looked at county-level data of about 289,000 adults to determine the relationship between Medicaid eligibility and adults delaying care. They also took into account the sociodemographic and clinical characteristics at hand.

Researchers found that the counties with residents most vulnerable to delaying care were also likely to have more Hispanic residents and high rates of chronic diseases commonly associated with low-income communities. Texas and Florida were among the states with the highest prevalence.

But Clarke said the study shows that it is possible to develop health infrastructure - through Medicaid, community clinics and more primary care doctors - to combat an issue that might be taking a toll on the country's health. And she said federal investments are moving in that direction.

"This seems to be a strategy that is feasible," she said. "We'll see how that plays out over time."



Also of Interest

Join AARP: Savings, resources and news for your well-being


See the AARP home page for deals, savings tips, trivia and more