39 States and Counting: Caregiving Across State Lines
By Elaine Ryan , August 11, 2014 01:04 PM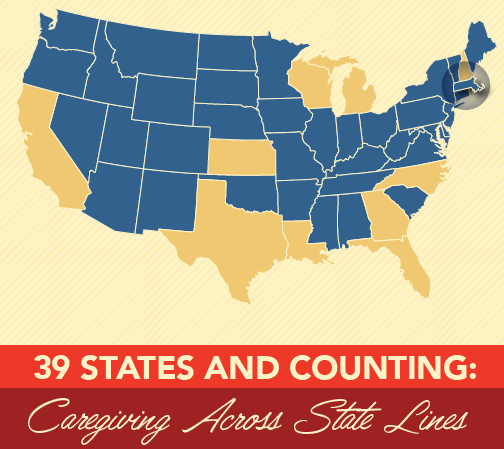 I was a long-distance caregiver for my parents for nearly 15 years. Through illness, surgery and rehabilitation, I helped them stay out of institutional care, like a nursing home, and instead remain at home - where they wanted to be. During this time, I purchased my house on Cape Cod in Massachusetts with my parents in mind - hoping that Mom and Pop could come to the Cape from New York, enjoy time by the seashore, and get some rest and relaxation. Finding a home with a ground-floor bedroom and bath was at the top of my list, so my mom could navigate throughout the house in her wheelchair.

Caregiving across state lines

At that time, I found that if I became the legal guardian of either of my parents while they were still living in New York, I would have to go through the often lengthy and costly process again in Massachusetts should Mom and Pop need to move to Cape Cod. Neither New York nor Massachusetts had yet passed the Uniform Adult Guardianship and Protective Proceedings Jurisdictions Act (UAGPPJA) to help those caring across state lines.
When enacted, UAGPPJA does four simple things to protect older people and their family caregivers:
1. It outlines a set of rules for transferring guardianship from one state to another.
2. It allows states to recognize and register guardianship orders from other states.
3. It creates a clear process for determining jurisdiction by designating the "home state."
4. It protects older people against abuse and exploitation because the guardianship order is registered in other states.
While every situation is different, the fact is: Caregiving situations change. And caring for our loved ones across state lines should be consistent when it comes to law. UAGPPJA is necessary not only for scenarios like my family faced, but for many others.
Meet Joseph Feaster, a practicing attorney and volunteer member of the AARP Massachusetts Executive Council, who saw firsthand how important UAGPPJA is. Feaster's sister in Massachusetts was the guardian of their mother, who lived in Georgia. He saw how easily the lack of a uniform guardianship law in Massachusetts could have become a real obstacle in his family's ability to care for his mother.

"My sister would have to file here in Massachusetts seeking to be appointed guardian by a justice of our Probate Court.  This duplication would be costly, and would result in delays in addressing the reason for the guardianship in the first place." -Joseph Feaster

Meet Lynn Achter, a Wyoming resident, who was granted guardianship of her brother in Oregon after he suffered a brain injury in a motorcycle accident. The distance made her caregiving responsibilities even more difficult, and she decided to move her brother to Wyoming. Not only did Achter have to relive the painful process, but she had to pay another $2,000 in legal fees.

"Having a family member be in need of guardianship is heartbreaking. It shouldn't be easy because you are taking over someone's life. It's hard to do, and we don't need to make it harder." -Lynn Achter
Massachusetts Makes 39!

On Aug. 6, Gov. Deval Patrick signed UAGPPJA into law in Massachusetts. The Bay State thus joined 38* other states - including New York and Wyoming, as well as  the District of Columbia and Puerto Rico - in providing protection for older people and their family caregivers, especially those caring across state lines.
State Sen. Gale Candaras played a crucial role in getting the Massachusetts bill passed. Here is what she had to say about UAGPPJA:

"This legislation will save time and money for guardians and conservators, allowing them to make important decisions for their loved ones as soon as possible."

While this is good news for Massachusetts, 11 states have yet to pass UAGPPJA legislation. They are: California,* Texas, Kansas, Louisiana, Georgia, Florida, North Carolina, Wisconsin, Michigan, New Hampshire and Rhode Island.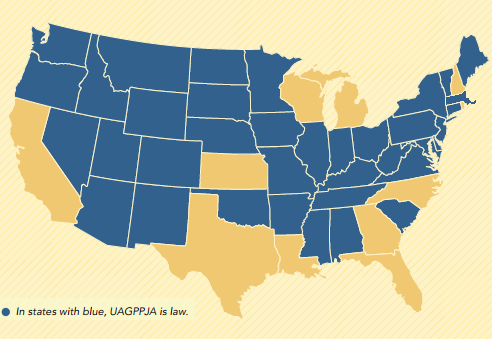 AARP will continue to fight until UAGPPJA becomes law in every state to ensure that older people and their family caregivers - especially those who provide care across state lines - have the protection they deserve.
Follow me on Twitter @RoamTheDomes for more news on guardianship across the country. And to stay up to date on our guardianship campaign in the states, sign up for the AARP Advocates e-newsletter or visit your state Web page .
* On September 25, 2014 California enacted UAGPPJA