4 Reasons to Watch State Legislatures in 2018
By Elaine Ryan, January 25, 2018 05:06 PM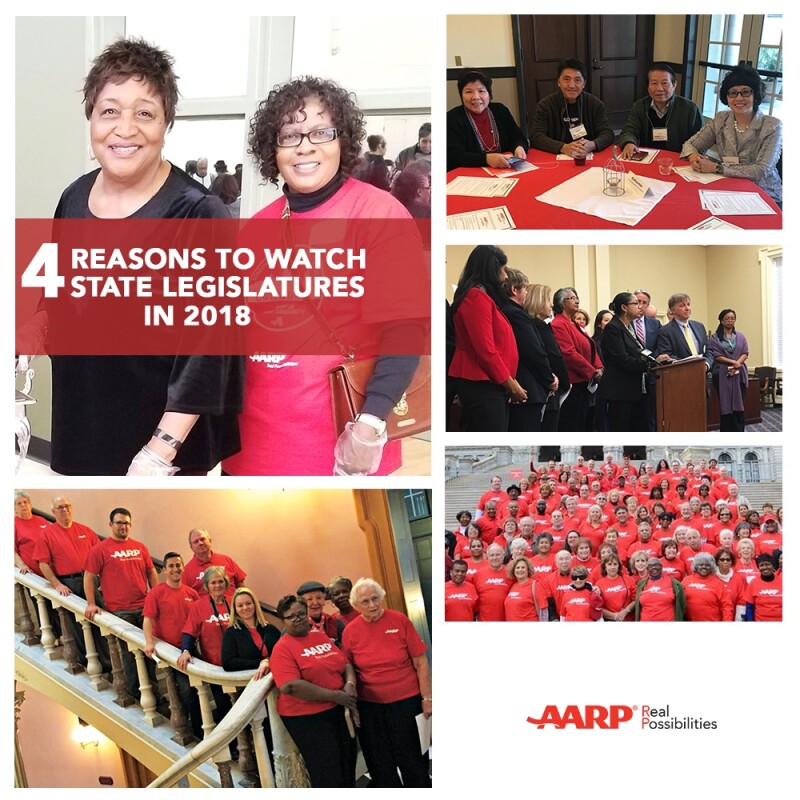 Simmering issues important to all older Americans and their families, like health and financial security, may escalate to a full boil in many state Capitols in 2018.

Facing these challenges and opportunities head-on, AARP is already exhaustively at work throughout the country, fighting for the issues that matter and driving an innovative agenda focused on commonsense solutions without the clutter of partisanship.

Last year, AARP State Offices achieved huge successes, including new supports for family caregivers, greater access to home and community based services, and new ways to save for retirement. This year, we will continue to find ways to better enable more people to live and age as they choose.

Among our top priorities:

Supporting Family Caregivers
About 40 million family caregivers represent the backbone of our country's care system, providing hours of unpaid care to their loved ones every day. Over the past two years, AARP state offices have worked with state legislators and governors to enact more than 150 new laws that support these unsung heroes.

In 2018, AARP will continue to support family caregivers and their loved ones by advancing laws and policies that:

Provide information about the medical or nursing tasks that family caregivers will be asked to perform when their loved ones are discharged from the hospital. The Caregiver Advise, Record and Enable (CARE) Act promotes family caregiver involvement, notification and instruction, and has been enacted in nearly 40 states already.
Reduce the financial burden for family caregivers through a tax credit.
Ensure Advanced Practice Registered Nurses can use the full extent of their education and training, and allow nurses to delegate certain medical tasks to home care workers.
Provide family caregivers with a much-needed break through greater access to respite care services.
Help family caregivers manage personal or property decisions through comprehensive adult guardianship and power of attorney improvements.
Encourage employers to offer workplace flexibility options, such as extending paid leave and allowing employees to use sick leave for caregiving responsibilities.
Create or modify a home care provider registry to enable public access to home care information and availability.
Remove barriers to telehealth services such as outdated regulations and policies, in order to expand access to care, improve the quality and reduce the cost of care, and create greater convenience for patients and their family caregivers.
Strengthening Home and Community Based Services
AARP knows that an overwhelming majority of Americans want to stay in their homes and communities. That's why AARP is urging state policymakers to improve home and community based support for older adults and Americans living with disabilities by:

Lowering costs and improving access.
Providing greater choice of settings, providers and services.
Enhancing quality of life and quality of care.
Increasing effective transitions to avoid unnecessary hospitalizations and institutionalizations.
Accessing Retirement Plans at Work
Half of all U.S. families have zero saved for retirement, and 55 million Americans do not have access to retirement saving plans at work. That's why AARP will continue advocating for Work and Save plans to increase access to workplace savings options and remove barriers for small businesses that want to offer retirement savings plans to their employees.

Ensuring Utility Services are Affordable
All across the country, families count on utility services to warm and cool their homes, keep their lights on, and access the technology to connect with loved ones—as well as police and fire in case of emergency. AARP strives to save utility customers money by fighting for affordable, reliable, and safe energy and telecommunications services.

In addition, this year, AARP will also continue fighting to: extend Medicaid coverage; lower the costs of prescription drugs; protect pension benefits and retirement income; strengthen communities for all ages; and combat financial exploitation and elder abuse.


To stay up to date on our work in your state, and nationwide, sign up for our e-alerts AARP Advocates e-newsletter, follow me on Twitter @roamthedomes, or visit your state Web page.


---

Elaine Ryan is the vice president of state advocacy and strategy integration (SASI) for AARP. She leads a team of dedicated legislative staff members who work with AARP state offices to advance advocacy with governors and state legislators, helping people 50-plus attain and maintain their health and financial security.