6 Myths About the Health Care Law
By Andrew Schwab, March 25, 2015 11:51 AM
There have been a lot of misconceptions regarding the Patient Protection and Affordable Care Act, also known as Obamacare. As a service to our members, we thought it would be a good idea to discuss some of the myths vs. facts regarding this significant law.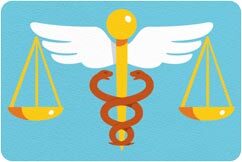 Myth: The ACA is hurting small businesses by forcing them to provide health insurance and is limiting their hiring potential.

Fact: The ACA does not require most small businesses to provide health insurance to their employees. The law does require businesses of 50 or more employees (delayed to be just 100 or more beginning in January 2015) to provide health insurance. For the smallest of small businesses — those with 49 or fewer employees — the ACA provides significant tax incentives of up to 50 percent of costs for businesses to pay for health insurance for their workers. For context, 96 percent of small businesses have 50 or fewer workers and will be exempt from the employer mandate. It is also important to note that since March 2010, when the ACA became law, America has created 10.5 million jobs.

Myth: The ACA is making health insurance premiums skyrocket.

Fact: The Commonwealth Fund reported in December 2014 that the average premium for the second-lowest-cost silver plan in each state was unchanged year-over-year and the average deductible increased by just 1 percent. In a world in which prior increases in the individual market between 2008 and 2010 averaged 10 percent, Commonwealth called this development "unprecedented."

Myth: The ACA gets in the way of patients and their doctors by centralizing health care decisions in Washington, D.C.

Fact: The ACA utilizes the power of free markets and transparency to deliver health care to more Americans. Those wishing to purchase health insurance policies on the marketplaces can do so from private insurance companies. The ACA does not tell medical providers how to deliver care to individual patients. The law does, however, provide a floor of basic consumer protections which every insurance policy must provide. These include coverage such as prescription drugs, emergency room visits and medical care before and after a baby is born. You can find out more about these basic protections here.

Myth: The ACA is mostly helping minorities and people who don't work.


Fact: The Urban Institute and Robert Wood Johnson Foundation recently looked at who is benefiting from the private insurance available on the federal marketplaces. Over 60 percent are white, non-Hispanic and live in the South, and 80 percent are working.

Myth: The ACA takes $700 billion from Medicare and is hurting seniors.

Fact: The ACA does indeed slow growth in the Medicare program to reduce its spending between 2013 and 2022 but does so not by hurting beneficiaries, but by reducing excess payments to insurance companies, doctors and hospitals. Prior to the ACA, private insurance companies that administer Medicare Advantage plans had been receiving, on average, 14 percent more for providing the same services that traditional Medicare does. The ACA brings those reimbursements into line.

In addition, the ACA improved drug coverage under Medicare Part D by closing the coverage gap that existed in the law, as well as provided cost-free preventive services to seniors in Medicare.

Myth: The ACA unconstitutionally requires every American to have health insurance.

Fact: The U.S. Supreme Court has ruled the ACA constitutional. In particular, the court ruled that a provision of the law known as the individual mandate is allowed under our Constitution. The mandate requires most Americans to either have insurance or pay a tax penalty.

Insurance works best when the risk pool is filled with as many people as possible, both healthy and unhealthy. If the ACA did not contain a requirement to buy insurance, popular improvements in the law — such as prohibiting insurance plans from excluding people based on pre-existing conditions — would not work. Prior to the ACA, states that banned using pre-existing conditions without requiring their residents to have insurance saw extraordinarily high premiums because mostly the sickest people bought insurance. The individual mandate makes sure the insurance pool contains both healthy and unhealthy Americans and is one reason premiums since the ACA's passage have been historically stable.

Andrew Schwab is senior legislative representative on the health and family team in the Government Affairs office at AARP.
Also of Interest

See the AARP home page for deals, savings tips, trivia and more.