$900 Million and Counting
By Elaine Ryan , April 28, 2014 01:43 PM
Have you ever been hit with sticker shock when you open your utility bill? This winter, many Americans faced skyrocketing energy costs, with bills doubling and tripling in just a month. Meanwhile, some seniors on fixed incomes still have to make tough choices between paying their utility bill or buying other necessities like food and medication.
That's why AARP is fighting, in states across the country, for fair and reasonable utility rates. We're off to a strong start in 2014, already having saved energy customers an estimated $922,538,000. Here's how:

AARP New Jersey's Utility Watchdogs

In New Jersey, Gov. Chris Christie signed a law to protect utility consumers and help them keep more of their hard-earned money. The law, which passed with bipartisan support, prohibits third-party energy suppliers from making false and misleading claims. These practices were leading customers to unknowingly choose variable-rate plans, which sometimes increased their bills.
New Yorkers already pay some of the highest utility bills in the country, and this year Con Ed wanted to increase these bills even more with a $400 million dollar rate hike. Over 1,000 AARP volunteers voiced their opposition to the proposal, helping to beat back the increase and leading the Public Service Commission to impose a two-year freeze on rates, followed by increases of less than 7 percent, the original proposal.
After hearing from more than 600 AARP utility watchdog volunteers, the Nevada Public Utilities Commission decided to reject a new surcharge on gas utilities. The commission commented that it had never before received so many emails from utility customers.
In Utah, AARP fought to minimize a $19 million rate increase proposed by Questar Gas by engaging members across the state. The Public Service Commission's decision ultimately resulted in a rate increase less than half the original request.
Over the last two years AARP has saved utility customers an estimated $3 billion on utility bills, protected reliable phone service, and fought for stronger consumer protections.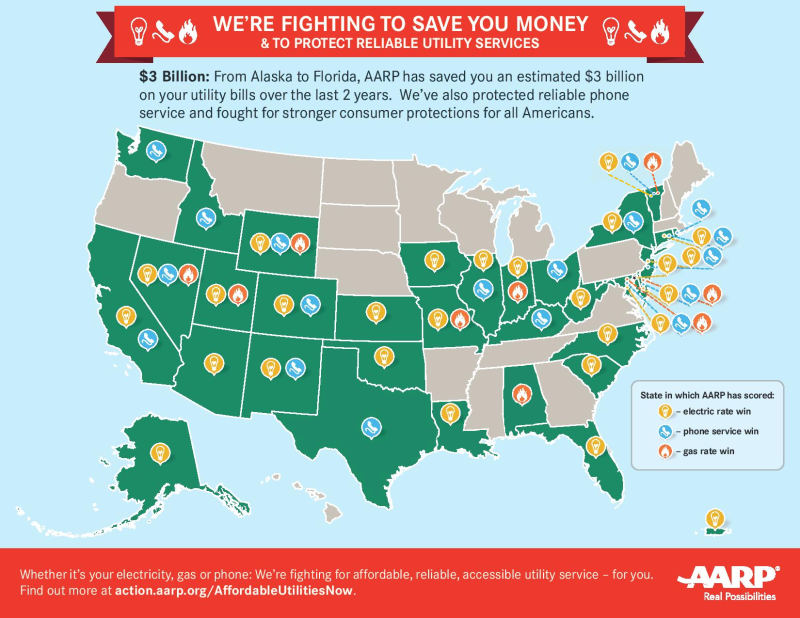 And we're still fighting.
New Jerseyans are yet again facing the threat of higher utility bills. PSE&G is asking for $4 billion as part of "Energy Strong." If approved, this would be the largest rate increase in New Jersey history for a project that lacks essential details and studies. Many AARP New Jersey members are speaking out against the increase by sharing their stories, like:
"The cost of my PSE&G bill has exceeded the cost of my mortgage."
"I am barely holding on."
AARP has intervened in Minnesota's first multiyear utility rate case at the Public Utility Commission and begun an investigation of Xcel Energy's largest-ever increase request of $291 million. Retirees Dale and Vivian Jeske are among the Minnesotans fighting against the rate increases. Dale explains, "It's harder to budget money when everything is going up."
Last week in Oklahoma, AARP filed testimony opposing a $45 million electric rate increase request by Public Service Company of Oklahoma (PSO). PSO is asking that the average household to pay $13.44 more annually, plus an advanced metering surcharge that would grow to an additional $49.68 annually for residential customers' bills by 2017. AARP is asking the commission to keep the fixed monthly charge for electricity as low as possible, keeping in mind the utility's most vulnerable customers.
From California to New Jersey, AARP is fighting for fair and reliable utilities. Check out what's going on in your state.
Follow me on Twitter @RoamTheDomes for more news on utilities across the country. And, to stay up to date on our utilities campaign in the states, sign up for the AARP Advocates e-newsletter or visit your state Web page.