A Blueprint for Success: Supporting Family Caregivers
By Elaine Ryan, September 21, 2015 10:01 AM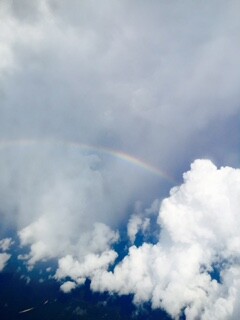 As I flew into Biloxi, the storm clouds parted and a rainbow appeared. Maybe it was a sign that good things are ahead for Mississippi family caregivers and the parents, spouses and other loved ones they care for.

Last week while visiting Biloxi, I had the privilege to share how caring for my Mom and Pop as they aged ignited my passion to reform the way we support family caregivers in the U.S. And while there is much to be done, my message to the Mississippi Leadership Council on Aging was simple: "Mississippi is on the move."

A Caregiver Support Blueprint
In 2014, the Mississippi State Senate took a bold step to help family caregivers by passing a resolution to create a Caregiver Support Blueprint for Mississippi. After much study, the blueprint is now a reality, outlining specific ways to support family caregivers as they help their loved ones live at home.

That year, the legislature also passed the Uniform Adult Guardianship Protective Proceedings and Jurisdiction Act (UAGPPJA) — a law that helps caregivers who assist loved ones across state lines by ensuring adult guardianship laws are uniform from state to state.

The CARE Act
This year, Mississippi has continued to put its blueprint into action by passing the Caregiver Act. Known in some states as the Caregiver Advise, Record, Enable (CARE) Act, this new law helps family caregivers when their loved ones go into the hospital and as they transition home. The Mississippi version of the law requires hospitals to:



Provide your loved one the opportunity to designate a family caregiver when they're admitted into the hospital

Notify you when your loved one is to be discharged or transferred

Discuss your loved one's discharge plan with you

Provide an opportunity for you and your loved one to ask questions about the medical tasks you will need to perform at home — like cleaning wounds, managing medications, giving injections and more


Workplace Flexibility on the Horizon
What's in store for the 2016 legislative session? The blueprint found that "half of family caregivers are in the workforce and the state needs to champion caregiver-friendly workplaces." I hope the next step for the Magnolia State will be to create greater workplace flexibility — because family caregivers should never have to worry about loss of pay, or their jobs, if they need to take time off work to care for a loved one.

At AARP, we are continuing the fight for family caregivers and their loved ones in Mississippi and beyond. Check out what's going on in your state.

If you are a family caregiver, you're not alone.

---

Elaine Ryan is the vice president of state advocacy and strategy integration (SASI) for AARP. She leads a team of dedicated legislative staff members who work with AARP state offices to advance advocacy with governors and state legislators, helping people 50-plus attain and maintain their health and financial security.

Follow Elaine on Twitter: @RoamTheDomes