A Family Caregiver Thanksgiving Story: In Rehab
By Elaine Ryan , November 24, 2014 12:56 PM
My pop was fond of responding to any "How are you?" inquiry like this: "I've never been better in my life!" My mom shared her wisdom when sending me off to grade school: "Elaine, never let anyone think you aren't having the best day of your life!" I was raised with the power of positive thinking. And through the years, I was consistently inspired by the spirit, humor and resilience my parents demonstrated throughout a lifetime of challenges.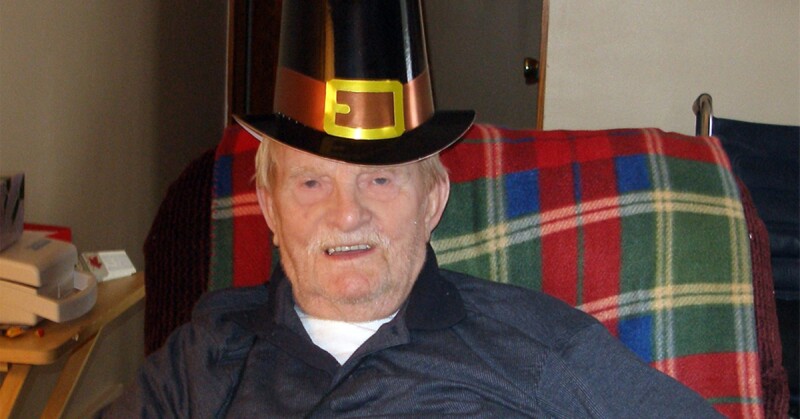 One time, my 79-year-old mom slipped down the stairs of a two-story home my parents had rented for more than 40 years. That stumble landed her into the hospital and then into a rehab center so she could regain her health and strength. Mom tried her best to get home as soon as she could, but alas, it was clear she'd be spending Thanksgiving in rehab. So Pop decided that if Mom couldn't be home to share the meal, he'd bring the meal to her — even though the rules of the rehab center prohibited it. But nothing would stop Pop from smuggling in the treats — he carried dinner rolls in his coat pockets and cranberry sauce, turkey and stuffing secured under the zipper of his parka. And I'm not sure where he hid the silverware, pumpkin pie and plates, but he brought them, too. With each item he unpacked, the smile on Mom's face widened. "Happy Thanksgiving!" Pop said. " We've got to get you home by Christmas. I don't know how I'd be able to sneak a tree by the receptionist!" Pop was the consummate caregiver cheerleader — patient, loving, funny and positive.
This year, as we give thanks, I want to share my gratitude for the 42 million Americans who work tirelessly caring for aging parents, spouses, aunts, uncles and other loved ones, helping them live independently, with dignity, as they age. This silent army of family caregivers deserves our recognition and thanks for the incredible things they do, like:

Caring for a loved one an average of 20 hours a week, but as much as 24/7
Helping their loved ones with dressing, bathing, grocery shopping, food preparation, transportation, housework, managing finances and more
Performing complicated medical and nursing tasks — cleaning feeding tubes, managing medication and providing wound care
Providing 40.3 billion hours of care each year, valued at about $450 billion
AARP is honoring family caregivers with a new initiative called I Heart Caregivers. Our goal is to recognize our unsung heroes by sharing the stories of those who give their hearts as caregivers each and every day. These stories — your stories — help us fight for you and your loved ones: more support, help at home, workplace protections, training and more.

Click here to share your story.

So, as you sit down to celebrate Thanksgiving with your family and friends, I hope you will take a moment to give thanks to the caregivers in your family: mothers, fathers, sons, daughters, friends. Thank you for all that you do. Happy Thanksgiving.
If you are a family caregiver, you're not alone.

_____________________________________________________________________________________
Elaine Ryan is the vice president of State Advocacy and Strategy Integration (SASI) for AARP. She leads a team of dedicated legislative staff who work with AARP state offices to advance advocacy with governors and state legislators, helping people 50-plus attain and maintain their health and financial security.
Follow Elaine on Twitter: @RoamTheDomes.