A Secure Retirement: American Dream or Pipe Dream?
By Elaine Ryan , July 14, 2014 01:20 PM
I often hear from friends and family members that they're afraid they don't have enough saved for retirement, and the truth is, many Americans are not prepared for the future. As recently highlighted by the New York Times, the reason many are not financially prepared is because they don't have the right tools at work to help them save for their future. In fact, when individuals have a way to save through their workplace, their rate of savings goes up by a staggering 1300%. Yes, that's right: 1300%.
That's why AARP is fighting across the country for Work and Save plans, a convenient way to save for retirement that benefits both businesses and employees. The plan is set up by the state and then can be offered to employees by small businesses, and used by the self-employed, or anyone who needs a way to save.
Here are just a few of the individuals a Work and Save plan would help:
Meet Mark Mullet, a State Senator in Washington and a small business owner of a pizzeria and ice cream shop. Senator Mullet wanted to offer retirement savings plans for his employees, many of whom have been working for years and saved very little. He found setting up a savings plan for his employees was easier said than done.

It's an expensive, painful and onerous process...I think it's why small businesses aren't doing it. Senator Mullet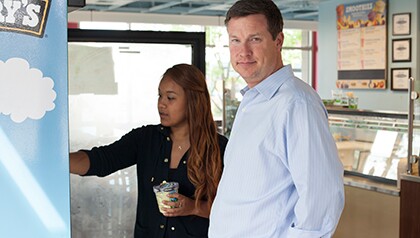 Meet Sidar Tun from Washington, general manager of one of Senator Mullet's businesses. She wants to build a retirement fund to make sure one day she can retire with confidence. However, she has worked at food, retail, and orchard jobs since she was a teen, none of which have offered her a way to save for her future.

I want to make sure I'm financially OK. — Sidar

Meet Dorry Clay from Connecticut who was working as a professional artist when the recession hit. She lost her job and then was diagnosed with cancer. While recovering Dorry started her own website and graphic design company, but all her savings were already gone and she had added new debt. As a small business owner she has no access to a retirement plan at work, no savings, and can't afford to retire.
Financial pressures and growing debt have made retirement savings more pipe dream than an American dream.— Dorry
Meet Susan Krautbauer, a Minnesota resident who has both owned and worked for small business throughout her career. Today, she and her husband own a company that offers staffing and high tech services. They have one other employee now, and expect to keep growing the business. Susan wants to be able to offer a retirement plan for her employees but costs are high and options are limited.

It's hard to be a competitive employer that can attract and retain quality employees when I can't offer standard benefits. — Susan
Stories like this are not uncommon. In fact, 57 million Americans do not have the ability to save through their job. It's time for common-sense solution that will help you and your family save so you can take control of your future and live the life you want in retirement. But what would a Work and Save plan mean to these individuals?
Here are the highlights of Work and Save:

Benefits businesses. Mark and Susan would be able to help their employees save for their futures because Work and Save makes it easy for businesses to offer their employees a retirement fund and gain a competitive edge in the marketplace.
Choice. It's up to each employee to decide if, and how much, he or she wants to contribute to an account. The plan would offer a wide array of investment options for savers - such as equities and mutual funds. Additionally, small businesses would be able to offer lower-fee investment options to their employees.
Easy to save. Sidar wouldn't have to feel overwhelmed figuring out to save because employee contributions could be deducted automatically from each paycheck
Portability. Anyone would be able to bring his or her retirement savings with then if they switch jobs, the account follows them so they can continue to save.
No ongoing cost or risk for the state. Work and Save plans are intended to be self-sustaining, and will be 100 percent participant funded after initial start-up costs. A Work and Save plan is not a public pension, and the funds cannot add to the state's pension liability.

State Updates
Fortunately, states are stepping up with solutions, like Work and Save, to help their residents save for a secure financial future, and momentum is building. Growing from just a few states in 2013, this year 17 states are working towards helping their residents save for a secure financial future. Here are some key state updates:


We're continuing to fight to help people live the life they want and have a secure financial future. Follow me on Twitter @RoamTheDomes for more news on advocacy across the country. And to stay up to date on our AARP advocacy in the states, sign up for the AARP Advocates e-newsletter or visit your state Web page.