A Tale of Two Americas
By Elaine Ryan , August 18, 2014 01:04 PM
Today's sobering statistic: Almost 20 percent of people ages 55 to 64 have no retirement savings. And even among those who have saved, millions are facing a retirement "deficit" - meaning they will outlive their retirement savings by $57,000 on average per household.
Why does that matter to the rest of us? Because if millions of older adults haven't saved enough to be self-sufficient in retirement, they will end up turning to government safety net services - a costly proposition for the state and taxpayers.
It's critical that we encourage people to plan and save for retirement and ensure they can easily do so. And the No. 1 way to do that? A workplace retirement savings plan. Simply having access to a retirement plan at work increases savings rates by a staggering 1,300 percent.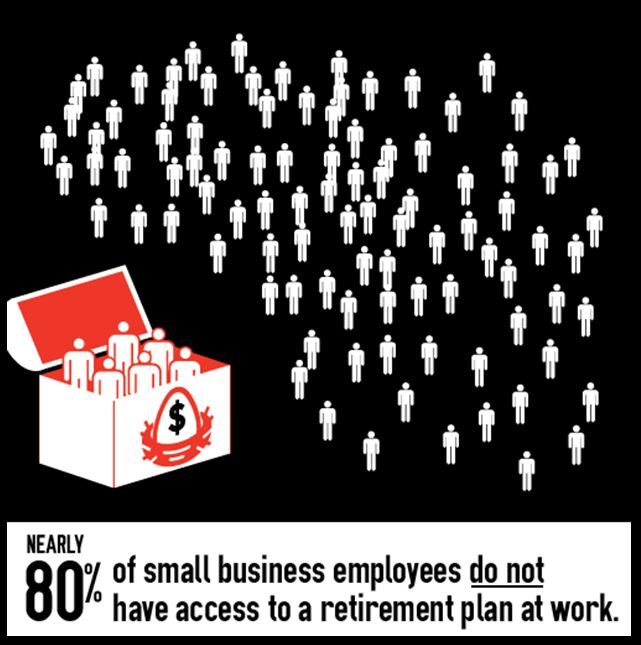 The good news: About 78 percent of employees working in large businesses (100-plus employees) have access to a retirement savings plan. Unfortunately, the tale is very different for small-business employees. Almost Work and Save Plan Template Factsheet_CT 3-19-14 of small-business employees do not have access to a retirement plan at work.
That's why small businesses are stepping up with AARP to support Work and Save, a commonsense solution to help individuals save toward a secure retirement. This public-private partnership is set up by the state and then offered to employees by small businesses, as well as to the self-employed.

Work and Save Benefits Business
Work and Save is an easy way for businesses to offer their employees a retirement fund and gain a competitive edge in the marketplace. Here's what some small-business owners across the country have to say:

"As a small business owner (and sole employee), I have no feasible way to save for my retirement." -Dorry Clay, Connecticut
"We began to shop around and quickly found that viable retirement savings plan options for ourselves and our employees were simply unaffordable for a small start-up." -Susan Krautbauer, Minnesota
"It [Work and Save] is literally no cost to the employers, and it provides an overwhelming ability for employees to have options towards retirement." -Excell Lewis, Illinois
"This program would allow small business owners to more effectively recruit excellent employees." -Barbara Campbell, Oregon
Work and Save Benefits States
Work and Save plans are intended to be self-sustaining and will be 100 percent participant-funded after start-up costs - meaning no ongoing cost or risk for states.
A Work and Save plan is not a public pension, and the funds cannot add to the state's pension liability.
Work and Save makes it easier for people to build their own private retirement savings rather than having to depend on taxpayer-funded government services.
Work and Save Benefits Employees
Work and Save is all about choice - it's up to the employee to decide if he or she wants to contribute to an account. The plan would offer a wide array of investment options, such as equities and mutual funds.
Employee contributions can be deducted automatically from each paycheck.
The account follows employees if they switch jobs so they can continue to save and be in control of their own future.
What's happening across the states?
I'm looking forward to joining over 1,000 state policymakers this week in Minneapolis for a legislative summit sponsored by the National Conference of State Legislators. Already, 17 states have stepped up and introduced or considered Work and Save legislation this year. Some highlights:

In Illinois, Work and Save legislation, called Secure Choice, will be back on the Senate floor in November and is supported by consumer groups as well as some financial firms, including Illinois-based Ariel Capital.
Follow me on Twitter @RoamTheDomes for live coverage of the NCSL and more news on Work and Save. To stay up to date on our advocacy in the states, sign up for the AARP Advocates e-newsletter or visit your state Web page.