AARP Is Fighting for YOU in Your State
By Elaine Ryan, January 30, 2017 09:58 AM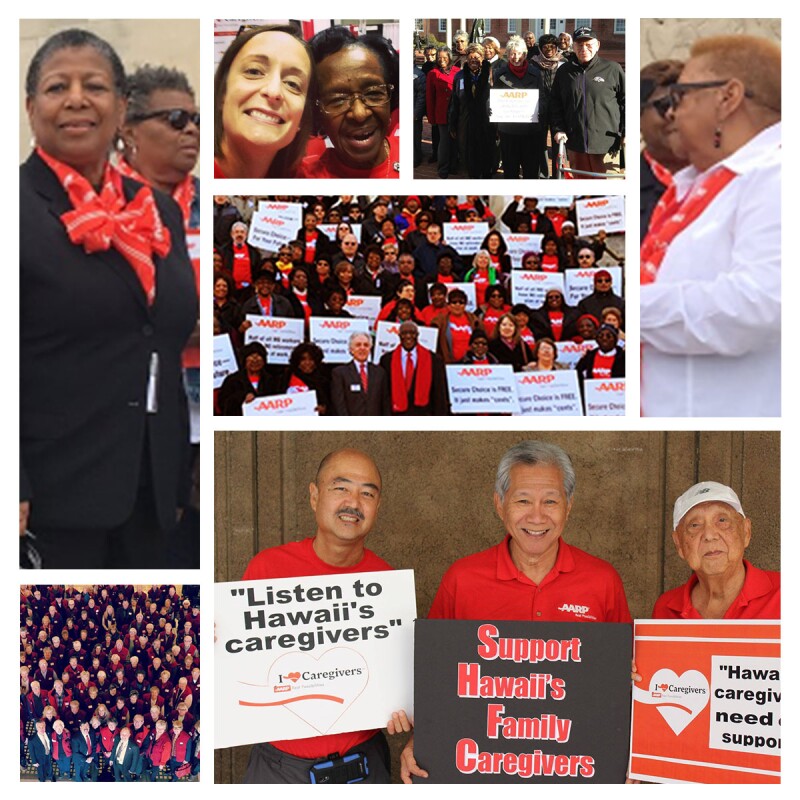 This year, as state legislators are going to work across the country, so are we. In addition to fighting on Capitol Hill to keep Medicare and Social Security strong, AARP will be making sure your voice is heard at state capitols across the country — on issues like support for family caregivers and their loved ones, retirement security, and ensuring that your utility bill is reasonable and justified.

Supporting caregiving families
About 40 million family caregivers in the United States provide an estimated 37 billion hours of care each year, helping older parents, spouses and other loved ones live independently in their homes and communities. As these family caregivers face physical, emotional and financial challenges, we can take some commonsense steps that would help make their lives a little bit easier. In the last two years alone, AARP has worked with state legislators and governors to pass more than 110 state laws to support family caregivers and their loved ones.
In 2017, AARP will continue this work by advancing laws and policy changes, including:

The CARE Act: The Caregiver Advise, Record, Enable (CARE) Act supports family caregivers when their loved ones go into the hospital and as they transition home.
CARE Act implementation: For the 35 states and territories that have enacted the CARE Act, work to ensure protections envisioned under the new law are fully realized through various regulatory measures.
Financial caregiving: Bills to help family caregivers navigate financial challenges.

Updates to state guardianship laws to better protect vulnerable adults and provide family caregivers and other legal guardians more training and support.
The Uniform Power of Attorney Act to ensure that power of attorney laws provide family caregivers with the tools they need to make important financial decisions and to help protect individuals.
A modest caregiver tax credit to give family caregivers relief when using their own money to care for a loved one.

Home- and community-based care: Working to increase or protect against decreases in the number of older adults who have access to state-funded services at home, like home care and adult day care.
Nurse scope and delegation: Bills to cut through the red tape and allow nurses to have the full authority to heal.

Increased scope of practice allows advanced practice registered nurses (APRNs) to serve as the primary or acute care provider of record.
Nurse delegation allows nurses to delegate and transfer authority to trained home care professionals in regular direct contact with patients.

Respite care: Significantly increasing services that allow family caregivers to take a hard-earned break.
Telehealth: Bills to break down the barriers that prevent use of telehealth — digital information and communication technologies, like computers and mobile devices,that help family caregivers manage their own or their loved one's health.
Workplace flexibility: Various bills to help working caregivers balance responsibilities at home and work.

Flexibility may come through state improvements to the federal Family and Medical Leave Act (FMLA) or to employers' paid and/or unpaid leave policies.

Click here for an update from across the states.
Providing small businesses and employees access to affordable workplace savings options
Today, half of U.S. families have ZERO saved for retirement. While this fact is startling, the good news is that when employees have access to a workplace retirement plan, they are 15 times more likely to save. This is why AARP is fighting for "work and save" plans — a convenient way to save for retirement through an easy payroll deduction. AARP launched this bipartisan effort several years ago, and since then seven states have passed work and save bills.

In addition to being good for employees, work and save is truly a win-win-win, also benefiting:

Small businesses: The ability to offer a retirement savings plan gives employers, specifically small-business owners, a competitive edge.
States: Building up private retirement savings allows individuals to become less dependent on government programs.
In 2017, AARP will continue working in states across the nation to help Americans retire with confidence.

Ensuring utility costs are affordable
Paying your utility bill should never mean tough choices, like deciding whether to pay that bill, the rent, or buy food and medication. That's why AARP is fighting in states across the country to ensure that you're paying only what is reasonable for utility service and trying to keep utility costs affordable for all household customers. When your utility company tries to push through an unjustified rate hike, increase mandatory fees or add a new charge to your bill, we speak up — so that you can keep more of your hard-earned money in your pocket.

AARP is also fighting to address high prescription drug costs, improve quality and oversight of institutional settings, and more. Stay tuned for more on AARP's 2017 State Advocacy Agenda.


---

Elaine Ryan is the vice president of state advocacy and strategy integration (SASI) for AARP. She leads a team of dedicated legislative staff members who work with AARP state offices to advance advocacy with governors and state legislators, helping people 50-plus attain and maintain their health and financial security.