AARP Survey Says Women Want Action on Social Security
On Aug. 14, Social Security turned 81 years old — an important milestone that had me reflecting on how far we've come . . . and how much work we still need to do.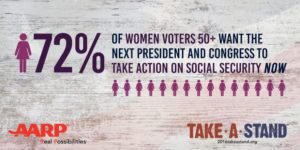 So much has changed since 1935. Back then, fewer than half of U.S. households had a telephone, and radio was the only mass communication device. Prices seem incredibly low by today's standards — consumers paid 10 cents a gallon to fill the tank of their new $650 cars — until you realize that the average American earned $1,600 a year. And the effects of the Great Depression were evident in a sky-high 20 percent unemployment rate.

As a result, financial security was hard to come by, with more than half of older Americans living in poverty.

Fast-forward to today, and the world looks much brighter. A smartphone in every pocket is the new chicken in every pot. And while there is still much work to be done, fewer than 10 percent of older Americans live in poverty, thanks in large part to Social Security.

One thing remains the same: We still worry about having enough for retirement.

Today, I moderated a forum in Chicago that focused on the financial challenges faced by women 50 and older — a group of people who are more financially vulnerable than their male counterparts.

On average, women receive lower benefits from Social Security than men.

More women are divorced or never marry. Women are more likely than men to work part time or take breaks in employment to do the important but unpaid task of caring for children, parents and other family members. And they often are paid less than men.

Each of these factors results in lower Social Security benefits.

Yet women live longer than men and are more dependent on Social Security. Bottom line, the program is incredibly important — and that importance will continue to grow.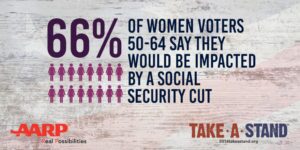 As we look forward, we need action to update Social Security to ensure that the program remains financially sound for current and future generations while providing adequate benefits and addressing important changes in family structures.

If no action is taken, Social Security benefits could be cut by 25 percent beginning in 2034. That's a reduction of up to $10,000 a year.

Today's 50-plus women are keenly aware of how disastrous these cuts would be.

In a new survey that AARP released today, a majority of women age 50 and over in key battleground states — 53 percent — believe that cuts to benefits would have an impact on their lives.

More than a quarter said they'd have to spend less on necessities like food, health care, prescription drugs and utilities.

And due to this, women 50-plus want to see action and leadership from their elected officials.

An overwhelming majority — nearly three-quarters regardless of age, race or party affiliation — want the next president and Congress to address Social Security immediately.

And, yet, the candidates aren't telling them enough about what they would do and how changes would affect current and future retirees.

Close to two-thirds of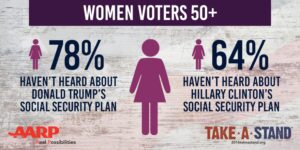 50-plus women say they haven't seen or heard anything from Hillary Clinton about her plans for Social Security, and nearly three-quarters say they haven't seen or heard anything from Donald Trump.

We need action and leadership from Washington.

That's why AARP launched our Take a Stand campaign to demand plans from presidential and congressional candidates.

We also need to understand different options for the program, which was the subject of my discussion in Chicago with experts from the National Committee to Protect Social Security and Medicare, the Heritage Foundation and the Illinois Policy Institute.

The panelists discussed how important Social Security is to women and ideas to improve the program, such as updating spousal and widow benefits and ensuring that family caregivers get credit for years spent caring for loved ones. While there were different views on the specifics, there were two areas of agreement: first, that Social Security needs to be updated to better serve women; and, second, that our leaders need to take action to update Social Security soon.

Doing nothing is not an option. Every year that our leaders kick the can down the road, finding a solution gets harder — and regular people pay the price.

For more information on our Take a Stand campaign or to see where the candidates stand on Social Security, visit 2016takeastand.org.


---

Nancy LeaMond, chief advocacy and engagement officer and executive vice president of AARP for community, state and national affairs, leads government relations, advocacy and public education for AARP's social change agenda. LeaMond also has responsibility for AARP's state operation, which includes offices in all 50 states, the District of Columbia, Puerto Rico and the U.S. Virgin Islands.

You can follow her on Twitter @NancyLeaMond.