Adventures in Sioux City
By Reshma Mehta , December 22, 2011 06:52 PM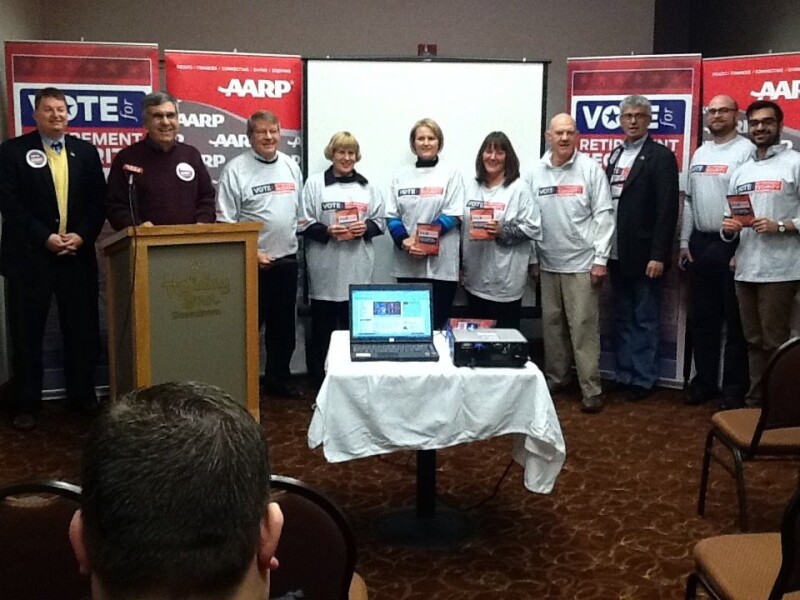 Hey all! Wanted to report back from our excellent trip to Iowa last week!
When it comes to presidential elections, the Hawkeye State takes pride in being the "first in the nation," as their caucuses are considered the first major electoral event for both the Democratic and Republican presidential nominees.
With only weeks to go before the January 3 caucuses, AARP wanted the media and general public to know more about what the Republican candidates are saying about jobs, the economy, Social Security and other important issues. So we trekked to lovely Sioux City, Iowa, where the final debate before the caucuses was taking place on Thursday, December 15.
We started the morning by distributing 1,000 DVD copies of our 2012 Video Voters' Guide to likely caucus goers in Sioux City's historic 4 th Street area. The voters' guide features unedited, 20-minute conversations with Congresswoman Michele Bachmann, former Speaker Newt Gingrich, Congressman Ron Paul and Governor Rick Perry. Former Massachusetts Governor Mitt Romney declined to participate.
We also launched a new voter profile information tool at www.aarp.org/YouEarnedIt to highlight key statistics on important retirement security issues for voters in Iowa, New Hampshire, South Carolina, Florida, and Nevada (the early primary and caucus states). The Voter Profile tool delivers basic information on the expected average age of caucus goers/primary voters in each state, median income, unemployment rate, Social Security and Medicare statistics, and more.
Probably the most exciting part of the day was sponsoring the post-debate "Spin Room" at the Sioux City Convention Center! Unfortunately we didn't get to hear any of the candidates talk about Social Security, Medicare, or retirement security during the debate itself. But you can count on AARP to keep working - with your help - to inject these important issues into the national conversation.
Live in Siouxland? CableONE is airing AARP's Video Voters' Guide on Channel 10 from 6:33-8 p.m. Sundays, Tuesdays and Thursdays until the Iowa Caucuses on January 3.
Not in Sioux City? Don't worry - you can watch all the interviews anytime at www.AARP.org/YouEarnedIt.
And remember - AARP is non-partisan. We do not have a political action committee and do not endorse candidates or contribute to their campaigns. All our voter education activities are designed to encourage members and the general public to exercise their constitutional right to vote and to highlight the issues that affect Americans age 50+ and their families with the Presidential candidates and their campaigns.
How do you think the debates are going so far? Are they helping you learn more about the candidates, or is there not enough substance? I'd love to hear your opinion in the comments!