Battleground States in the Fight for Medicaid Expansion
By Elaine Ryan , March 31, 2014 01:25 PM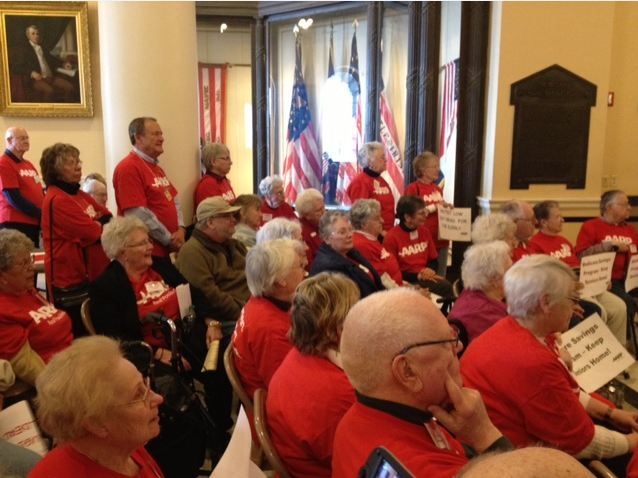 A few days ago, the Maine legislature passed a bill - for the third time - that would expand affordable health coverage for nearly 70,000 residents who earn up to $15,000 a year. These hard-working Mainers - our friends, neighbors, even family - may have lost their jobs or are working in jobs that don't offer health coverage. Gov. Paul LePage has already vetoed two similar bills to expand Medicaid, which would not only help the thousands of Mainers who are struggling without health care, but would bring millions of federal dollars into the state - money that could create jobs and pump up the economy. AARP again urges Gov. LePage to put people before politics and sign the bill to expand affordable health coverage.
Meanwhile in neighboring New Hampshire, last Thursday, Gov. Maggie Hassan signed a bipartisan law that will expand access to affordable care in the Granite State. By using federal funds to purchase private coverage, the plan extends coverage to more than 50,000 New Hampshire residents. The plan still needs federal sign-off, but once it is approved, New Hampshire will join the 26 states (plus the District of Columbia) that have expanded access to affordable care.
State Decisions
The decision to expand Medicaid, a key component of the Affordable Care Act, is made at the state level, and 24 states to date have either refused the option or are still considering it. By choosing not to expand access to affordable health care, these states, like Maine, are leaving tens of thousands of their residents without access to the care they need. They're also leaving millions in federal funding on the table. To make matters worse, these are the states that already have some of the greatest health disparities in the nation.
A Double Whammy - The New Coverage Gap
Millions of hard-working Americans who live in the 24 states that haven't expanded affordable health care now fall into what I refer to as the new coverage gap. To me, this gap is just confounding because those who fall into it:

Earn too much, up to $15,000 a year, to qualify for Medicaid.
Earn too little - yes, too little - to receive subsides through the Health Insurance Market, even though those making slightly more may have access to financial subsidies to help pay for health care.
Are too young to qualify for Medicare.
The Fight for Affordable Health Coverage Continues
Maine is not the only state still fighting to expand affordable health coverage for its citizens: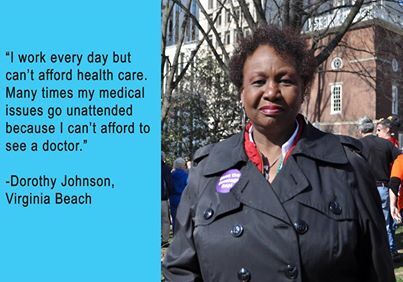 In Virginia , the House of Delegates is currently in a special session, at a stalemate over access to affordable care and Virginia's budget. Approving the Senate's bipartisan plan and expanding affordable care in Virginia would mean:

coverage for 400,000 Virginians, including 32,000 veterans, and
nearly $2 billion in federal funding for Virginia - $5.2 million a day.
Virginia Gov. Terry McAuliffe is determined to " get this done this year," but every day the debate continues is another day thousands of Virginians remain without care.
Meanwhile, in Utah , although the state legislature failed to pass Medicaid expansion this session, Gov. Gary Herbert is working to craft a state solution to provide private health coverage to those residents who would qualify for Medicaid expansion.
Such plans to offer private coverage spring from last year's landmark work in Arkansas to create the Private Option, which uses federal funding to provide affordable health coverage to those hard-working residents who earn up to $15,000 a year - instead of moving forward with traditional Medicaid expansion. In early March, the Arkansas legislature reaffirmed its commitment to the Private Option by voting to continue it.
For the 24 states that still have not yet expanded affordable health coverage, we know many, like Utah, are looking to the Arkansas model to create their own state solution. I will be watching progress closely, and our AARP state offices, as always, will be on the front lines advocating for the hard-working residents who are still without access to affordable health care.
Follow me on Twitter @RoamTheDomes for more on this important issue. And, to stay up to date on Medicaid expansion in the states, sign up for the AARP Advocate newsletter or visit your state Web page.