Bipartisanship and Boomer Women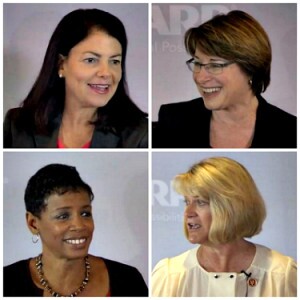 Months before the recent budget agreement was reached, a bipartisan exchange of ideas took place on a much smaller-scale when four legislators joined an AARP-sponsored forum on financial challenges facing boomer women.
Topics ranged from trying to "have it all" in terms of balancing work and family, to the need for women to "lean in" and help each other, to the uncertain financial future many women face.
Moderated by award-winning financial journalist and best-selling author Jean Chatzky, the panel of federal lawmakers - Sen. Kelly Ayotte (R-N.H.), Sen. Amy Klobuchar (D-Minn.), Rep. Donna Edwards (D-Md.) and Rep. Cynthia Lummis (R-Wyo.) - answered questions and offered ideas. A second panel with women business leaders offered additional points of view.
Our conversation with these members of Congress was a refreshing change from the contentious political soundbites many of us have become used to seeing over and over again in the media.
The women talked about challenges they faced in their own lives as working mothers, and in some cases, as caregivers. They touched on policy solutions that could potentially enhance financial security for women as they age. Not surprisingly, they mentioned the frustrating political climate in Washington since the forum happened to take place on the eve of the October government shutdown.
It turns out that two of our panelists were cited for their roles in helping to reach the bipartisan compromise that ended the October stalemate. As writer Kathleen Parker mentioned here, the credit for getting to a solution wasn't a main headline - but perhaps it should have been. Arizona Sen. John McCain noted: "Leadership, I must fully admit, was provided primarily by women in the Senate."
We thought we'd give the rest of the country a chance to hear from the women legislators at our forum and see them in action. Watch a replay of the panel discussion.
Politicians often hear from constituents who happen to be among 53 million American women over age 50. These women are less concerned about having it all; they're struggling with doing it all.
Many are working two jobs to make ends meet. Many more are handling caregiving responsibilities for elderly parents while raising children of their own and juggling full-time jobs. With an increase in those divorced or never married, and women generally living longer than men, they're worried about living alone into their elder years. They wonder if they'll ever be able to retire - and rightfully so.
The legislators and all of our forum participants were united in wanting women to have a more secure financial future.They talked about a variety of ways to try to get there, and we want to encourage more discussions on this important topic.
Cheers to more bipartisanship, and to more conversations to help address the financial challenges facing so many boomer women.
Here is a clip of panel moderator Jean Chatzky welcoming members of the forum:
Nancy LeaMond is Executive Vice President of AARP's State and National Group, and leads government relations, advocacy and public education for the organization. Follow her on Twitter @NancyLeaMond.
Also of Interest

See the AARP home page for deals, savings tips, trivia and more