Breaking News: N.J. Legislature Passes CARE Act to Support Family Caregivers
By Elaine Ryan , September 29, 2014 02:43 PM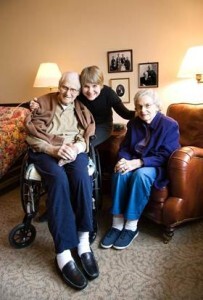 BREAKING UPDATE 11/13/14: Gov. Chris Christie signed the CARE Act into Law.
Just minutes ago, the New Jersey Assembly passed the Caregiver Advise, Record, Enable (CARE) Act. Already approved by the Senate without a single no vote, the CARE Act now heads to Gov. Chris Christie for his signature. Once enacted, it will support the 1.75 million family caregivers in New Jersey as their loved ones go into the hospital and as they transition home.

What is the CARE Act?
The CARE Act takes three commonsense actions that will make a world of a difference to family caregivers by requiring hospitals to:



Identify a designated family caregiver when a patient is admitted.

Notify the caregiver when the patient is to be moved or discharged.

Provide that caregiver with adequate instruction for the care of the patient following the patient's discharge from the hospital.
Why is the CARE Act needed?
As a caregiver for my parents for 15 years, I know firsthand the importance and need for the CARE Act. For many, like me, family caregiving is more than just household chores and rides to the doctor. Family caregivers are often asked to perform medical/nursing tasks such as medication changes, wound care, nebulizers and more that can quickly become part of a daily routine. Ann of Berlin, N.J., is one of these family caregivers. She shares:

 "I had no training, I was scared to death."

In fact, 72 percent of family caregivers in New Jersey report performing medical and nursing tasks when caring for a loved one. Even more think hospitals can help by:

demonstrating medical tasks (96 percent)
keeping caregivers informed of major decisions (92 percent)
recording caregiver information upon admission (87 percent)
Will New Jersey enact the CARE Act?

That decision is now in Gov. Christie's hands. Jim Dieterle, AARP New Jersey state director, says:

"AARP New Jersey urges Gov. Christie to sign the CARE Act now, and provide critically important help for New Jersey's family caregivers and their loved ones."

Thanks to the strong leadership of the primary sponsors of the CARE Act — Assembly Speaker Vincent Prieto; Assembly members Joseph Lagana, Bob Andrzejczak, Daniel Benson and Vincent Mazzeo; state Sens. Joe Vitale, Robert W. Singer and Linda Greenstein — the CARE Act passed the legislature!
Assembly Speaker Vincent Prieto:

"By having hospitals work cooperatively with a patient's preferred caregiver, we can ensure that they're getting the level of care they need from the person they feel most comfortable with."

State Sen. Joe Vitale is chair of the Health, Human Services and Senior Citizens Committee:

 "We have many stories in our office of folks who have come in and said my dad came home from the hospital with cancer … but we didn't know what to do … didn't know how to feed him, didn't know how to change a bed with him in it."

I hope New Jersey becomes the second state in the nation, following Oklahoma, to support family caregivers with the CARE Act. More than 1.75 million Garden Staters are counting on it.
Gov. Mary Fallin of Oklahoma encourages other states to follow in enacting the CARE Act and supporting family caregivers:
I'll be watching closely as other states tee up the CARE Act for 2015. Follow me on twitter @RoamTheDomes for more news on caregiving and other AARP advocacy initiatives across the country.
Fellow family caregivers, remember, you're not alone.