Can You Afford The Summer Heat?
By Elaine Ryan, June 25, 2018 10:05 AM
Summer is here, and for most parts of the country, it's predicted to be a hot one. Once again, we'll hover in air-conditioned homes, offices, coffee shops, and shopping malls. And all of that comes with a cost – a big cost – in the form of higher monthly electricity bills that anyone on a fixed income will find hard to swallow.

The amount that customers spend on electricity for their homes is based primarily on how much power they use. That's why upticks in electricity bills are often tied to changes in outside temperature. The typical U.S. household will spend an average of $426 for electricity this summer, an increase of about 3 percent from last summer, according to the U.S. Energy Information Agency.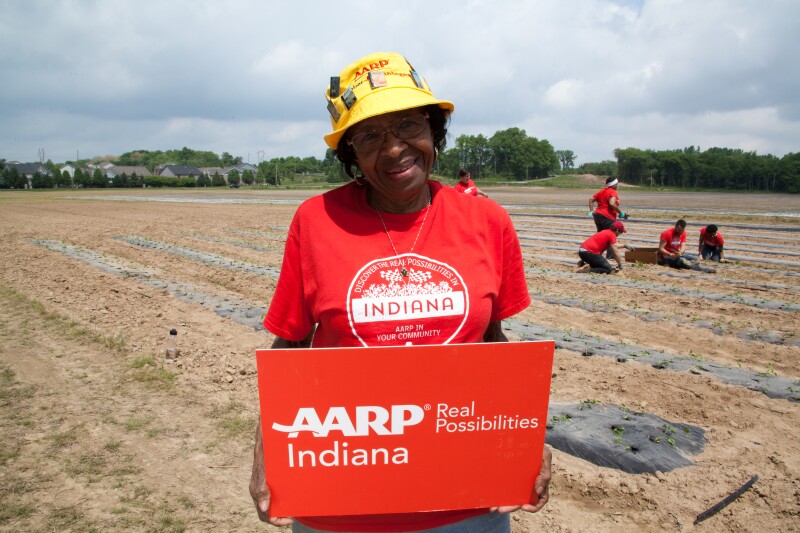 For many retirees, like 84-year-old Lucille Moore of Indianapolis, there just isn't room in the budget for higher utility costs. "A lot of seniors are on expensive medication, and a lot of them can't afford to deviate with unexpected (utility) bills like this," says Moore.

An AARP Indiana volunteer and retired electronics factory worker, Moore is already fighting her electricity provider, Indianapolis Power & Light Co., over unexplained recent spikes in her bill. Her electric bill shot up in February to $344, a shocker considering she's usually charged about $100 a month.

Making matters worse for Moore and others in Indianapolis, IPL wants to impose a new monthly charge of $27, up from $17, on nearly every utility customer before they even turn a light on. AARP Indiana is fighting this charge – along with other revenue requests – that would give $97 million a year for IPL.

AARP state offices are working hard to save customers, like Lucille, money on their monthly utility bills. Here's a look at recent activity in a few states:


Where does your state stand?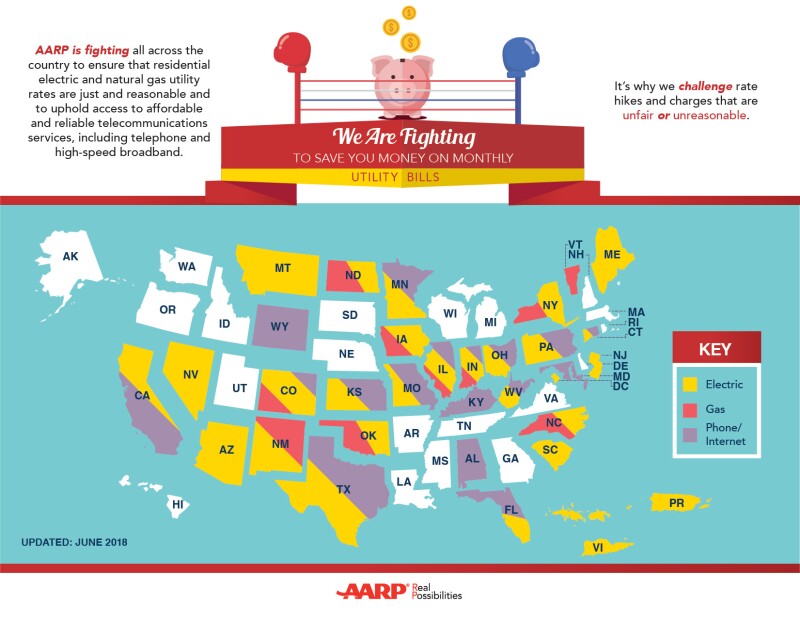 UtilitiesMap_2018

AARP is fighting all across the country to ensure that residential electric and natural gas utility rates are just and reasonable and to uphold access to affordable and reliable telecommunication services, including telephone and high-speed broadband.

Would you like to volunteer with AARP? Visit aarp.org/getinvolved .

To stay up to date on our work in your state, and nationwide, sign up for our e-alerts AARP Advocates e-newsletter, follow me on Twitter @roamthedomes, or visit your state Web page.


---

Elaine Ryan is the vice president of state advocacy and strategy integration (SASI) for AARP. She leads a team of dedicated legislative staff members who work with AARP state offices to advance advocacy with governors and state legislators, helping people 50-plus attain and maintain their health and financial security.