Caregiving Across State Lines: 45+ States Pass Law to Help
By Elaine Ryan, August 15, 2016 08:34 AM
Imagine you care for your 90-year-old mother with dementia. She lives with you in your Georgia home. You help her with bathing and dressing, drive her to the doctor, cook her meals, manage her medications and do anything else she needs. Last year you were appointed her legal guardian by the state of Georgia to help manage her finances and make decisions for her about health care and more.

Your mother needs a special heart procedure, only available in a hospital in Florida, meaning you'll have to cross state lines. The problem is, the Florida hospital may not accept guardianship orders from other states and is unable to treat your mother without authority from a Florida court. Now, as your mother's health deteriorates, you have to desperately file for an expensive legal proceeding just so your mother can get the care she needs.

For some caregivers, the possibility of this hypothetical life-threatening situation is very real.

While every caregiving situation is different, many Americans care for their loved ones across state lines every day — and the law should be on their side, with consistent rules about state jurisdiction to make it easier.

The good news is, 45 states, the District of Columbia and Puerto Rico have already passed the Uniform Adult Guardianship and Protective Proceedings Jurisdictions Act (UAGPPJA), a law to support family caregivers serving as guardians as they care for their parents, spouses and other loved ones across state lines. This includes Georgia, Louisiana and North Carolina, where this important act was signed into law in 2016.

This law ensures scenarios like the one I outlined don't happen, and provide more protections, by:



Outlining a set of rules for streamlining the transfer of guardianship from one state to another

Allowing states to recognize and register guardianship orders from other states

Creating a clear process for determining jurisdiction by designating which state should hear a request for guardianship when more than one state is involved

Protecting seniors by giving the court information and authority to act on abuse and exploitation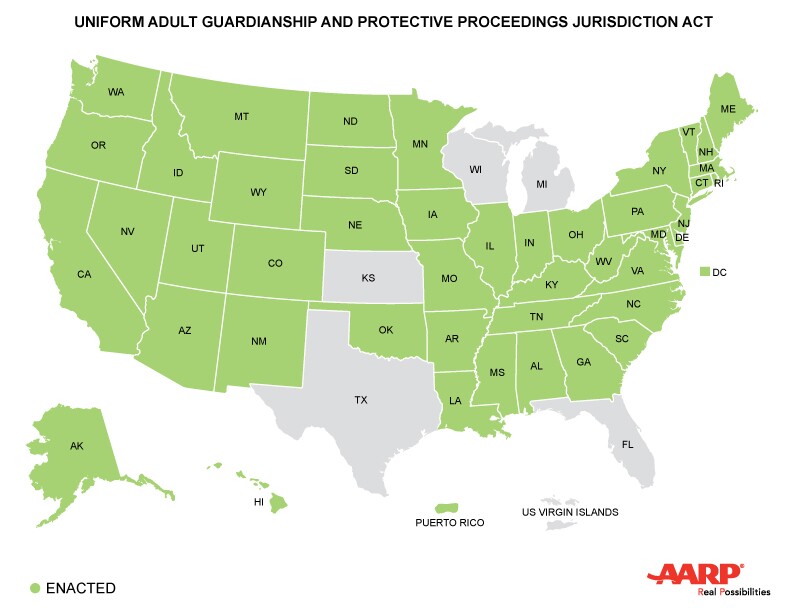 AARP will continue to fight for adult guardianship reforms so that family caregivers and their loved ones — across the U.S. — have one less challenge to face.


---

Elaine Ryan is the vice president of state advocacy and strategy integration (SASI) for AARP. She leads a team of dedicated legislative staff members who work with AARP state offices to advance advocacy with governors and state legislators, helping people 50-plus attain and maintain their health and financial security.