Caregiving Takes a Team
By Elaine Ryan , October 20, 2014 01:03 PM
Ah — autumn! The crisp cool weather, the colorful leaves ... and the smell of football is in the air. This time of year I'm reminded of the days of my youth when I spent countless hours watching my pop and brother practicing football in the backyard, watching high school games my brother starred in, and watching our beloved Buffalo Bills on TV.
At a very young age, I was raised to be a football fan. In the years between high school and World War II, my pop was a semi-pro football player — a halfback on the Lockport Esso team. And I'm fairly certain I was the only little girl in the third grade at St. Patrick's who knew the role and responsibility of a "pulling guard."
Family caregiving is a lot like football. Sometimes you're blocking or tackling your way through the medical maze, and other times you need to assume the role of quarterback. For years, my mom and pop rotated in the position of quarterback — helping each other through life's challenging moments. And, at one point, they passed the ball over to me, so that I could provide the assistance they needed.

Caregiving teams
I was a family caregiver for my mom and pop for more than 15 years. I saw them through hospitalizations, cancer, rehab facilities, and all the challenges and joys along the way. My family is just one story, though. Every caregiver has a story to tell, like Tammy from Maryland. When her brother-in-law was diagnosed with lung cancer, Tammy joined her sister and other family members in a caregiving team for Donny. Tammy shared:

It meant time off from work, sitters for the kids, and coordinated trips to three different hospitals, making meals, trips to the pharmacy. Life had ended as we knew it…. We all had to juggle and be creative. We had to keep life as normal as possible even though it was like being in the eye of a storm…. We changed the den into a room with a hospital bed. We arranged for the oxygen, the morphine, and the endless supply of pills. I spent most nights with my sister — getting up at 3:30 a.m. to drive to my home in Severna Park to take care of my family and then go to work.
Click here to read more of Tammy's story.
Power of stories

Powerful caregiving stories like Tammy's help us fight for family caregivers and the support they need. Just a few months ago, it was the story of the Mitchems that helped bring support to family caregivers in Oklahoma.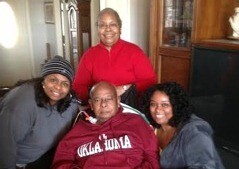 As a family caregiver for her father, Alphus, Kristin Mitchem — and her mother, Cheryl — perform complicated medical/nursing tasks to help him remain at home. They have no training for these tasks, such as medication management and cleaning his feeding tube. Sadly, this has led to setbacks in Alphus' health, causing him to be readmitted to the hospital at least once.
In part because of the Mitchems' story, Oklahoma became the first state in the nation to pass the Caregiver Advise, Record, Enable (CARE) Act . Among other things, the CARE Act requires that family caregivers be trained for the medical/nursing tasks they will need to perform when their loved one is discharged from the hospital.

Calling all caregivers

Every family caregiver has a story about the joys or challenges of caregiving. We just need a place to share them. I am excited to preview for you I Heart Caregivers , a new initiative to recognize family caregivers through the power of their stories — so, together, we can fight for you .
So to all the other family caregivers out there, I want to hear from you. If you are a family caregiver or have been a family caregiver, please share your story .
Follow me on Twitter @RoamTheDomes for more news on caregiving and other AARP advocacy initiatives across the country.
If you are a family caregiver, you're not alone.