Today we honor Marian McQuade of West Virginia. In the 1970s, McQuade worked tirelessly to educate people about the important contributions of older Americans, and she urged Americans to "adopt a grandparent" and enjoy the benefit of their wisdom and experience. She even convinced governors, Congress and then President Jimmy Carter to set aside a day each year to celebrate this special group of people.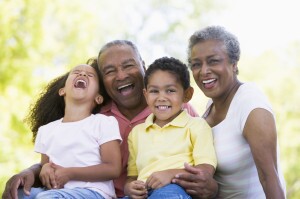 Sept. 7 marks the 35th anniversary of National Grandparents Day, and in the spirit of McQuade, I would like to echo her call to action. We should all take time — not just today, but every day — to celebrate the grandparents around the world who play a unique and important role in the lives of their children and grandchildren.
>> Sign up for the AARP Advocacy Newsletter

While many grandparents play an active role from a distance (whether down the road, or from another town or state), many others live with their grandkids. In fact, according to the U.S. Census, 10 percent of children in the United States live with a grandparent. And 2.7 million grandparents are actually raising their grandkids.
There's a lot of talk these days about generational warfare, about generations robbing other generations. But this is an overly simplistic and false picture that fails to consider the nuances of how generations work together, live together, support one another. Today's grandparents provide love and care for their grandchildren, they serve as a source of counsel and advice, and often, they provide financial assistance. And for those who raise their grandkids, they serve as both primary caregiver and day-to-day role model.
According to a Metlife/Generations United survey, 62 percent of grandparents provide financial support to their grandchildren. And they regularly provide support in the way of assistance for clothing, educational needs, life events, financial savings and even car purchases. One-third even give financial assistance to their grandkids despite the fact that it's having a negative effect on their own financial security.
While grandparents are generous with their wallet, there is so much they pass on to the next generation that is invaluable. They are very committed to family — and with that commitment comes a strong desire to leave a positive, lasting legacy for our kids, grandkids and future generations. The Metlife/Generations study found that grandparents are passionate about passing on personal values, with large majorities focused on nurturing honesty, good behavior and self-sufficiency.
>> Here's What Retirement Looks Like for Some Boomers
As former New York Mayor Rudy Giuliani once said so well: "What children need most are the essentials that grandparents provide in abundance. They give unconditional love, kindness, patience, humor, comfort, lessons in life. And, most importantly, cookies." Indeed.
And while grandparents give a lot to their grandkids, the benefits are mutual. Research shows that grandparents who have strong relationships with their grandchildren feel better about their lives. Not to mention, they also get to experience the sense of fun, exploration and curiosity as they watch their grandchildren grow.
Today, we recognize the efforts of the late McQuade to honor and celebrate our grandparents. And hopefully we can do her legacy proud.
Photo: monkeybusinessimages/iStock
Also of Interest

See the AARP home page for deals, savings tips, trivia and more