Chained CPI Petitions Delivered to Capitol Hill: 1.5 Million Say No
By Ian Cunningham , August 09, 2013 10:19 AM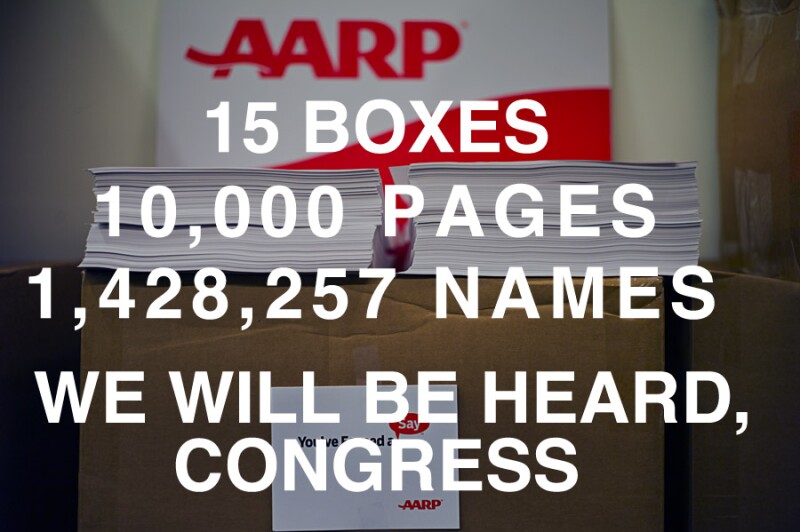 Fifteen cardboard boxes.
Ten thousand pages.
And about 1.5 million people who want to be heard signed their names on one or more petitions, for a total of 2.3 million signatures.
A group of AARP volunteers - known as the Capitol Hill Strike Force - descended on the U.S. Capitol this morning to deliver their messages to the House Ways and Means Committee.
"As members of Congress consider proposals to reform these vital retirement security programs, it's critical that they hear from people who have paid into Medicare and Social Security and who rely on their benefits," said John Hishta, AARP senior vice president. "Americans want to have a voice in any changes to these programs, and today millions of them have made their voices heard."
The petitions included more than 1.5 million signatures specifically addressing the proposal to adopt the chained CPI. That's a fancy Washington term for a plan that would change the formula for the cost of living adjustment to the program. Bottom line: It amounts to nothing less than cutting benefits to Social Security recipients and veterans.
Other petitions urged support for a program to prevent and reduce improper Medicare expenses and other measures to reduce costs across the health care system.
Click here to find out what you would lose under chained CPI. To learn more about AARP's efforts to strengthen Social Security and promote responsible solutions in Medicare, visit aarp.org/earnedasay.
If you would like to add your name to the petition opposing harmful cuts to Medicare, you can until Aug. 16 by visiting aarp.org/commonsense.