Dear Nurses, Thank You!
By Elaine Ryan, May 10, 2018 03:57 PM
This National Nurses Week, I'd like to stop and take a moment to say thank you to all of the amazing nurses that I'm fortunate to know. Each and every day, nurses across the country use their incredible skills and compassion to provide comfort during difficult times and care when we're at our most vulnerable.

When I was caring for my parents, nurses became a critical part of our care team. Especially Nurse Sue who visited my parents in their home.

While all nurses do incredible work, I'd like to focus today on nurse practitioners and other advanced practice registered nurses (APRNs). In big cities, small towns and rural areas, alike, nurse practitioners do remarkable things for the people they serve. They've completed advanced education at the master's or doctoral level, focused in areas like primary and elder care. With this training they care for older Americans in their homes and communities, keeping them out of costly, taxpayer-funded institutions. They handle:

routine health care such as diagnosing and treating patients,
managing chronic conditions,
ordering lab tests,
prescribing medications and performing annual exams,
and more.

Nurses heal. Red tape doesn't.
Unfortunately, in 28 states outdated laws and regulations prevent nurse practitioners, from practicing to the full extent of their education and training — denying patients and family caregivers in many states access to trained health care providers in their communities.

That's why we're fighting in states across the country to cut through the red tape that prevents nurse practitioners from doing their jobs. By giving nurse practitioners the full authority to heal, patients and family caregivers would benefit from:

Improved patient choice
Shorter wait and travel times to get health care appointments for themselves and older loved ones. Without action, the shortage of primary care providers will force patients to drive further or wait longer for the care they need.
Expanded options for patients and family caregivers to receive primary care in the setting of their choice — in medical offices, at home, in community health centers and more. For family caregivers, this is especially important since their loved ones — like my mom and pop — often would be better served by receiving health care at home.

Where does your state stand?
Already this year states have made progress in cutting the red tape and improving access to affordable health care.

Does your state allow nurses to practice to the fullest extent of their education and training? If not, it's time to give nurses more authority to heal!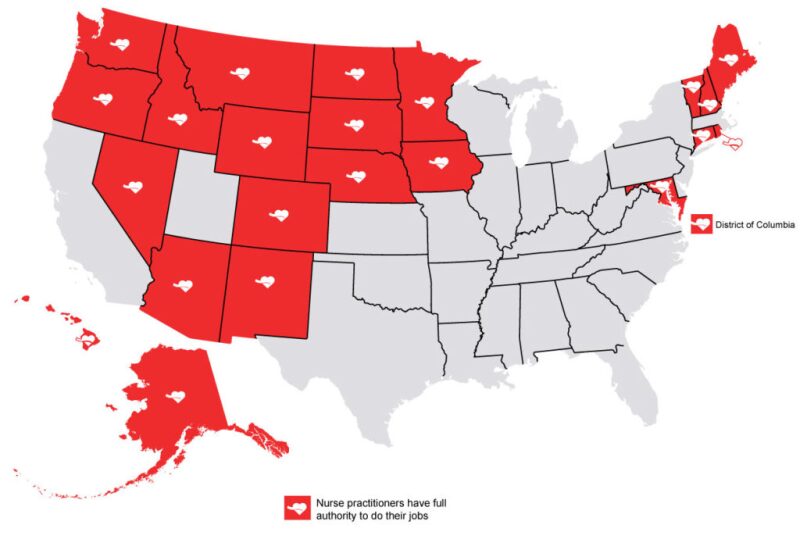 To all nurses, thank you for the work that you do and the care you provide to us and our loved ones.


Would you like to volunteer with AARP? Visit aarp.org/getinvolved.

To stay up to date on our work in your state, and nationwide, sign up for our e-alerts AARP Advocates e-newsletter, follow me on Twitter @roamthedomes, or visit your state Web page.
---

Elaine Ryan is the vice president of state advocacy and strategy integration (SASI) for AARP. She leads a team of dedicated legislative staff members who work with AARP state offices to advance advocacy with governors and state legislators, helping people 50-plus attain and maintain their health and financial security.