Don't Hang Up on Landlines Just Yet
By Elaine Ryan , May 27, 2014 02:55 PM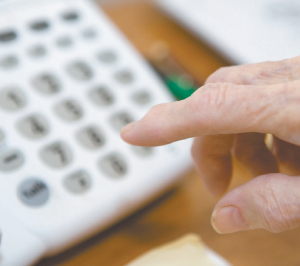 As a family caregiver to Mom and Pop for many years, I know reliable technology can mean the difference between life and tragedy.
Yet, in states across the country, phone companies that provide landline service are trying to force residents to switch to a new wireless phone option - one that does not work with many medical monitoring devices, like pacemakers and defibrillators, home security systems, and sometimes even 911.
In New Jersey, for example, the phone company doesn't want to replace the landlines damaged during Superstorm Sandy . Instead, the company wants to force New Jerseyans to use a new fixed wireless home phone option that isn't yet as reliable as landline phones or compatible with critical services that connect to the phone network.
New Jerseyans should not be forced to give up their landline phone service for a less reliable wireless option that doesn't keep them safe. The fact is, the wireless home phone services currently offered are not as reliable, nor do they provide all of the functions of landlines, like being able to call 911 even if the power is out for an extended period of time and backup batteries are drained.
The good news is, a bill (A2459/S278) being considered by the New Jersey Assembly and supported by AARP New Jersey and Don't Hang Up On New Jersey - a coalition of more than 30 consumer advocates and community organizations - would stop this plan. It would place a one-year moratorium on the forced switch from landline to wireless phones, giving the Board of Public Utilities time to study how it would affect real people. During the moratorium, service providers would still be able to offer their wireless home phone option - but residents wouldn't be forced to switch from landline service. The bill has already passed in committee and awaits action by the full Assembly.
Related: FCC Halts Plan to Replace Landline Phone Service in N.Y., N.J.
For more than 50 years, AARP has been fighting to help older Americans live independently. Today, landline phone service is still a lifeline for seniors' health and safety - and that's why AARP is fighting to make sure the people who need landline service have access to it.
This year, five states have already moved to protect reliable phone service for their residents - and protect seniors from tragedy:

Follow me on Twitter @RoamTheDomes for more on this important issue. And, to stay up-to-date on what's happening in your state, sign up for the AARP Advocate newsletter or visit your state Web page.