Family Caregivers at Work
By Elaine Ryan , June 30, 2014 01:20 PM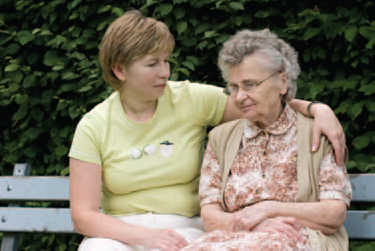 Through the years, I've had to take time off from work to care for my mom and pop. And I've always been grateful that I worked for an employer that allowed me to take sick leave or to telework in order to be there for my parents. But I know I'm one of the lucky ones. Today, millions of American workers have no paid or unpaid sick leave. Each day they face loss of pay - or loss of their jobs - if they need to care for their loved ones. Yet they still do remarkable things, juggling their work and caregiving tasks. Here are the facts:
The average family caregiver works full or part time while caregiving.
Forty-two percent of U.S. workers have provided care for an aging relative or friend in the past nine years.
Forty-nine percent expect to do so in the next five years.
Seven in 10 working family caregivers say they have made accommodations in their work schedules to care for their loved one.
Those who leave the workplace lose an average of $304,000 in wages.
That's why AARP is fighting in states across the country to help strengthen workplace protections for family caregivers. Policies like family leave and paid or unpaid sick time give family caregivers the opportunity to manage their caregiving responsibilities - without having to choose between their jobs and their loved ones. Some states are already making progress:
In New Jersey, two cities (Jersey City and Newark) have passed laws that allow employees to earn paid sick leave to care for a loved one. Under these new ordinances, family caregivers who are full-time private sector employees will be able to take the time for their caregiving duties when needed. Now, AARP New Jersey is fighting for a statewide mandatory paid sick leave law to help the 1.19 million family caregivers in the Garden State.

"Sick leave is critical not only for working parents with young children, but for workers caring for grandchildren or aging parents," said Marilyn Askin of AARP New Jersey.

In Minnesota, legislators passed an expansive bill (the Women's Economic Security Act) to give family caregivers additional flexibility and protection in the workplace. The act will benefit the state's 679,000 family caregivers in several ways:
It broadens the state's sick leave law to allow someone caring for a sick grandchild or in-law to take paid time off.
Employers are prohibited from discriminating against persons with elder care responsibilities.
Family caregivers, keep in mind: You're not alone.