Family Caregivers Need Support From Hospital to Home
By Elaine Ryan, February 27, 2017 09:00 AM
Having a loved one in the hospital can be a stressful and emotional experience — especially if you don't have the support you need. Each day, 40 million family caregivers help older parents, spouses, children with disabilities and other loved ones live independently at home. They help with bathing and dressing, manage finances, stand by their loved one's side when they go into the hospital, care for them when they return home, and so much more.

Some family caregivers, like Jerry, who cared for his wife, Faith, receive the support they need to smooth out the transition from hospital to home.

"Prior to discharge the charge nurse told me I would need to watch and listen, because I would be the caregiver at home. My wife had shoulder replacement, so I needed to know how to assist in removing and attaching the shoulder brace. She reviewed all medications with me as far as to when my wife needed to take them etc. She changed my wife's dressing and told me to do it the same way and told me I needed to go to a pharmacy and purchase 4" x 4" gauze and 2 in. wide paper tape. She made sure I understood it was paper tape so the tape didn't irritate the skin etc."

Unfortunately, this isn't the experience of all family caregivers.

Mary didn't receive instructions on her mother, Eartha's, medications after a hospital stay. After a medication that was supposed to be short term was given to Eartha long term, she suffered irreversible kidney damage. Mary was then given the choice to put her 82-year-old mother on dialysis or take her home on hospice.

When Cheryl's husband Alphus was discharged, the family was given no instruction on the medical tasks they needed to perform, including managing multiple medications and cleaning his PICC line. Cheryl learned by trial and error — and unfortunately one of these errors led to Alphus being hospitalized, again.

The consequences can be grave when family caregivers don't have the support they need as their loved ones go into the hospital and as they transition home.

That's why AARP developed a model bill called the CARE Act, short for Caregiver Advise, Record, Enable Act. This commonsense, no-cost solution is now law in 32 states, D.C., Puerto Rico and the U.S. Virgin Islands. The CARE Act calls upon hospitals to:



Record the name of the family caregiver when a loved one enters the hospital.

Notify the family caregiver prior to the loved one's discharge.

Provide the family caregiver simple instruction of the medical tasks they will be performing when their loved one returns home — like managing medication.


State update
As the 2017 state legislative sessions progress, states continue work to pass the CARE Act.

In the states that have already passed the CARE Act, we're educating family caregivers about this new law and how it can help them when a loved one goes into the hospital. We're also continuing our advocacy by making sure caregivers know whom to contact if their loved one doesn't receive the benefits of the CARE Act, and we are making sure that state agencies are notifying hospitals about the law and are effectively implementing it. In addition, we're studying how leading hospitals are putting the CARE Act into action and sharing these promising practices with others hospitals.

Stay tuned throughout the year for more updates on how the CARE Act is helping family caregivers nationwide.

Check out where your state stands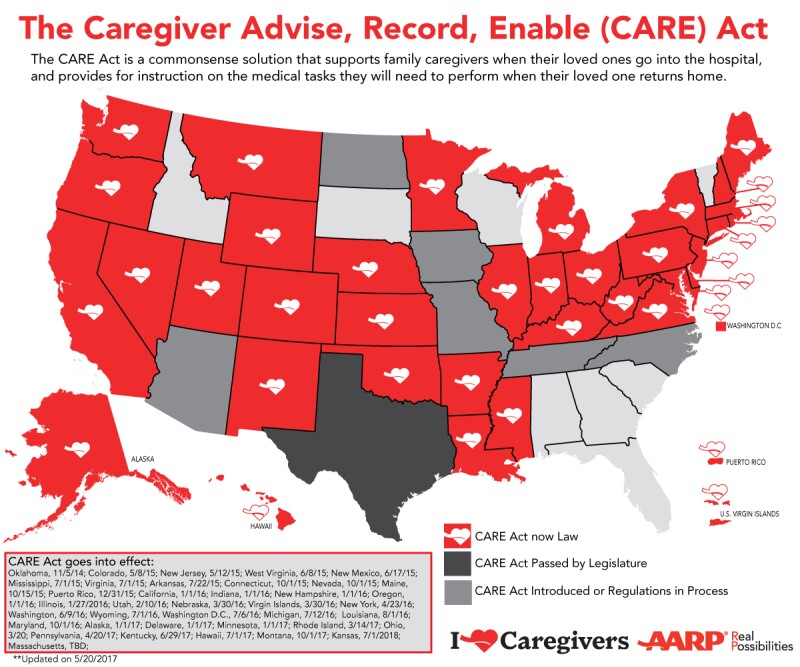 ***Updated 5/26/17


---

Elaine Ryan is the vice president of state advocacy and strategy integration (SASI) for AARP. She leads a team of dedicated legislative staff members who work with AARP state offices to advance advocacy with governors and state legislators, helping people 50-plus attain and maintain their health and financial security.

Photo: Katarzyna Bialasiewicz/ iStock