Family Caregivers Say 'Thank You, Nurses'
By Elaine Ryan, May 09, 2016 09:03 AM
During National Nurses Week (May 6–12, 2016), we celebrate nurses. I say, let's celebrate nurses every day! Across the country, these hardworking professionals help us get and stay well, and provide comfort and care when we're at our most vulnerable. In my experience, they do this with incredible skill as well as a smile.

When caring for my mom and pop, nurses were lifesavers for my parents and me. One in particular, Nurse Sue, became more like a member of our family; she was certainly an integral part of our caregiving team, visiting my parents' home to provide the care they needed. To Nurse Sue, I say: "Thank you. You helped Mom and Pop in a way nobody else could. You were kind, compassionate — and firm when you needed to be. You helped Mom and Pop stay safely at home, longer. You were our angel."

I'm certainly not alone as a family caregiver in my sincere gratitude for nurses and all that they do. Here's what some of my fellow family caregivers had to say about nurses through our I Heart Caregivers storytelling initiative and on our @AARPadvocates Facebook page:

Cynthia:
For the last 4 months I have seen a vast number of nurses in several facilities. The level of care and commitment is exceptional. Our family is more than grateful for the sincere kindest they have given my ill Father. Thank you, nurses. What you do every day is the highest commitment of love.

Michael:
We had the best Nurses and Doctors in the world. These CNAs and Nurses were out of this world.

Myrna:
Nurses are the Best and most important people we have in our lives when they are needed. Thank You!

Geri :
Thank you to all the nurses out there.... So grateful for all you do!!

Marcus:
Thank god for the day nurse. She's there for 5 hours/5 days a week ... when I'm at work that's one less worry.

Bill:
It takes a special person to be a nurse, they are loving and kind, they must have a big heart, to do all that is called for, from mostly strangers. So I say we give them all a big thank-you.

Give nurses full authority to heal
Because nurses are so important to us all, AARP is fighting to cut the red tape and break down the barriers that prevent nurse practitioners from using all their training and skills to treat patients.

Already in 23 states, nurse practitioners have full authority to provide complete primary care services, including routine health care such as diagnosing and treating patients, managing chronic conditions, ordering lab tests, prescribing medications and performing annual exams. The advanced practice nurses with this authority have completed advanced education at the master's or doctoral level, focused on areas like primary and elder care.

Giving nurse practitioners full authority to heal could help:

Improve patient choice
Ease a predicted shortage of primary care providers
Expand options for patients to receive primary care in the setting of their choice — in medical offices, at home, in community health centers and more. For family caregivers, this is especially important since their loved ones — like my mom and pop — often would be better served by receiving health care at home.
Nurses heal. Red tape doesn't.
That's why we're fighting in states across the country, cutting the red tape, to give nurses full authority to heal.

So far this year, Florida, South Dakota and West Virginia have passed bills to give nurses more authority to heal.
In California a bill has passed one chamber of the state legislature and is now being considered by the second chamber.
In Arizona, Massachusetts, Michigan, Ohio, South Carolina, bills have been introduced and are being considered by the state legislature.
To all nurses past, present and future, THANK YOU!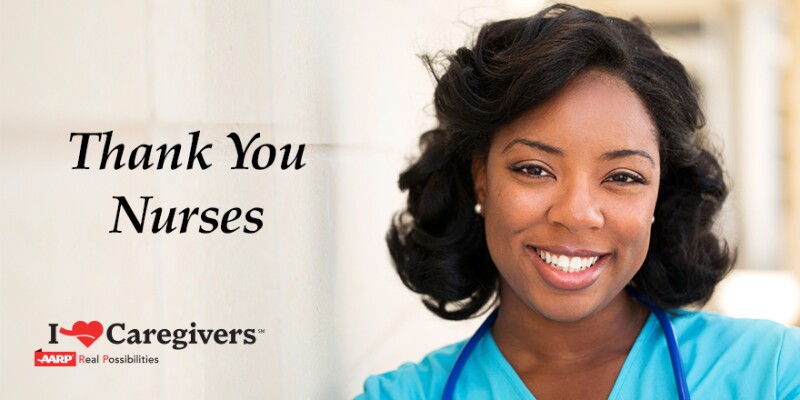 ---

Elaine Ryan is the vice president of state advocacy and strategy integration (SASI) for AARP. She leads a team of dedicated legislative staff members who work with AARP state offices to advance advocacy with governors and state legislators, helping people 50-plus attain and maintain their health and financial security.

Follow Elaine on Twitter: @RoamTheDomes.