Family Caregivers, CARE Act Gain Support
By Elaine Ryan , March 24, 2014 01:02 PM
BREAKING UPDATE: The Hawaii legislature has created a task force to examine the critical role family caregivers serve when their loved ones go into the hospital and then transition home. As a named member of the task force, AARP Hawaii will help evaluate how to implement provisions of the CARE Act as well as the community resources needed for family caregivers to safely care for their loved ones at home. In early 2015, the task force will make a recommendation to best support the 270,000 family caregivers in Hawaii.
Aloha! After a busy few weeks of travel to fight for family caregivers - and enjoying some warm Hawaii sunshine in between meetings - I'm back in chilly D.C. with news to report. First, I had the pleasure of spending time with AARP Hawaii as it works to pass CAREGIVING-CAREAct-OnePager-Design-NATIONAL 2-18-14 and support the 247,000 family caregivers in Hawaii - as well as the seniors these caregivers help to live independently, at home.
Throughout the week, we were warmly welcomed in meetings with Gov. Neil Abercrombie, Attorney General David Louie, Department of Public Health Director Linda Rosen, House Speaker Joseph Souki and the House Health Committee to discuss the crucial need for the CARE Act.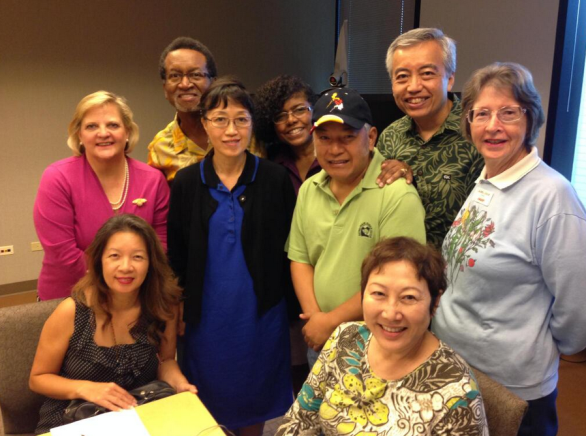 Sen. Suzanne Chun Oakland - an early legislative champion for the CARE Act - also joined us for a live tele-town hall meeting to hear directly from our members about their caregiving experiences and learn how the CARE Act will help. More than 3,500 AARP members participated, and a strong 82 percent majority agreed that hospitals should provide clear and detailed instructions to family caregivers before their loved one is discharged, a large component of the CARE Act.
Each year Hawaii's family caregivers provide 162 million hours of unpaid care for their loved ones, valued at nearly $2 billion. By providing this care, family caregivers serve a critical role in helping to keep their loved ones from being readmitted to the hospital, out of costly institutions, and at home.
CAREGIVING-CAREAct-OnePager-Design-NATIONAL 2-18-14 supports these family caregivers when their loved ones go into the hospital and helps them learn the tasks they must perform - including medication management, wound care and more - when their loved ones are discharged and return home.
As introduced, Senate Bill 2264, the Hawaii version of the CARE Act, would:

Record the name of family caregivers on the medical record of a loved one
Inform the family caregiver when their loved one is to be discharged or moved
Give the family caregiver explanation and live instruction of the medical tasks - such as medication management, injections, wound care and transfers - that they will perform at home.
Stuart Ho, former AARP Hawaii state president and former chair of the Hawaii Long-Term Care Commission, explained:

"With this bill, Hawaii can take some common-sense steps that would make a world of difference" to family caregivers.

While it was a busy week, this hard work has not been without progress for family caregivers. The CARE Act has already passed the Hawaii Senate and just last week, while I was there, cleared the House Health Committee. But we still have much work to do to keep the CARE Act strong and move it through the House Finance Committee, a House-Senate conference committee and then on to final votes. All of this must be wrapped up by May 1, the end of Hawaii's legislative session.
Next, I'm pleased to report: The CARE Act is earning the support of organizations in states like Hawaii as well as those representing constituencies nationwide. Here's just a hint at what some leading groups have to say:
The American Geriatrics Society: "The American Geriatrics Society (AGS) commends AARP for its efforts to integrate family caregivers across the continuum of care. The Society recognizes that members of the interdisciplinary care team can better provide person- and family-centered care when family caregivers are identified in medical records, notified of discharges, and provided appropriate training and explanations."
The American Cancer Society Cancer Action Network: "The CARE Act recognizes the important role of caregivers by requiring that hospitals identify and involve patients and their designated caregivers in the discharge planning and after-care preparation process."
Caregiver Action Network: "Family caregivers are integral members of the health care team for their loved ones and the CARE Act is exactly the right approach to recognize the vital role that caregivers play."
Coalition of Geriatric Nursing Organizations: " Implementing the CARE Act in each state will provide a system for enhancing caregiver support."
Family Caregiver Alliance: "Passage of the CARE Act will ultimately improve care for the patient through better involvement and training of family or informal caregivers."
National Alliance for Caregiving: "As a formal member of the care team, family caregivers can better assist medical professionals in providing high quality, patient-centered care."
ReACT (Respect a Caregiver's Time): "ReACT (Respect a Caregiver's Time) commends AARP for its efforts to formally integrate family caregivers into the continuum of care."
More to come on why these organizations are supporting our efforts to help family caregivers in my next blog.
To stay up to date or get involved with our caregiving advocacy in the states, sign up for the AARP Advocates e-newsletter or visit your state Web page. Follow me on Twitter @RoamTheDomes for more news on caregiving - including day-to-day updates on our work in Hawaii - as well as our other advocacy work across the country.
If you are a family caregiver, you're not alone. To find the tools and support you need, as well as ways to connect with other caregivers, visit the AARP Caregiver Resource Center.