Fighting Age Discrimination Draws Bipartisan Support - And You Can Help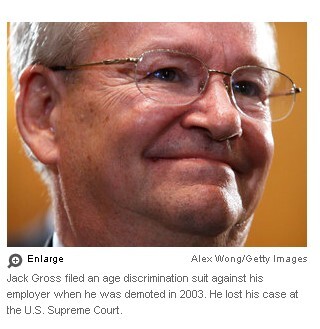 In a contentious election year it's encouraging to learn that Americans from both parties, and some politicians, have found common ground on at least one issue. A new AARP survey shows that older Americans overwhelmingly support legislation to combat age discrimination in the workplace.
The May 2012 poll of registered voters 50 and older found that 78 percent favor passage of the bipartisan "Protecting Older Workers Against Discrimination Act" (POWADA), introduced in March by Sen. Tom Harkin, D-Iowa, Sen. Chuck Grassley, R-Iowa, and Sen. Patrick Leahy, D-Vt.
The Act is intended to overturn a divided U.S. Supreme Court decision, Gross v. FBL Financial Services, which became a major obstacle for older workers needing to prove bias based on their age. Passing the legislation would help ensure that employees have a more level playing field when fighting age discrimination in court.
AARP's survey also found that 77 percent of respondents are afraid that age would be an obstacle if they had to find new jobs.
Older workers have good reason to be worried. Age discrimination takes a huge toll on people's lives, on everything from emotional outlook to physical health.
Long-term unemployment has hit people 55 and over especially hard. As of May, job seekers in that age bracket were out of work for an average of 56 weeks, compared to 38.5 weeks for people under 55.
For insights on how job loss at this stage of your career upends lives, check out the Over 50 and Out of Work Project web site. This group has collected hundreds of videos from people around the country, and a documentary is in the works.
Want to be part of the fight against age discrimination? Learn more about the Gross decision and the Protecting Older Workers Act, then contact your senators and ask them to co-sponsor Senate Bill 2189 to help fight age discrimination.
Photo and audio clip via NPR's Morning Edition web site.
Workers: Learn more about age discrimination, from legal definitions to what to do if you think you've been a victim. Find job-hunting advice and tools at www.aarp.org/work/job-hunting/ and explore your real possibilities with Life Reimagined for Work.

Employers: See AARP's Employer Resource Center for information and tools to help you make the most of your multigenerational workforce. To optimize your talent management planning and help ensure that your workplace is free from age bias, check out the Workforce Assessment Tool from AARP and SHRM.