For Richer or Poorer; A Family Caregiver's Journey
By Elaine Ryan, February 12, 2018 11:01 AM
We vow 'in sickness and in health,' and 'for richer or poorer,' hoping to never experience illnesses or financial difficulties. When tragedy strikes, spouses are often left battling both; taking on the huge responsibilities of caring for their husbands or wives' needs, and managing their health and recovery.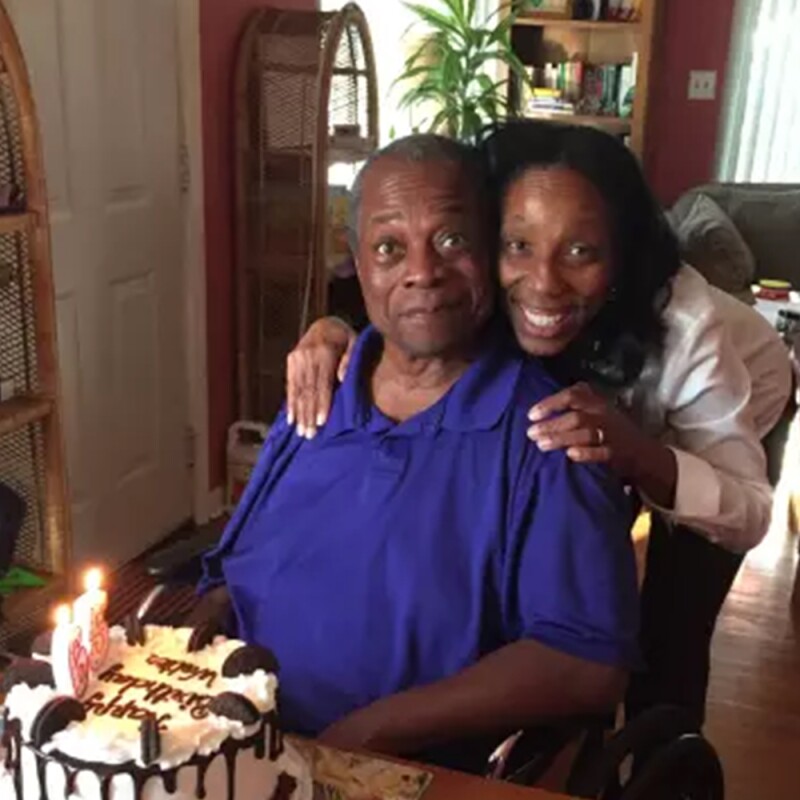 Yvette and Walter from North Carolina live this struggle. After Walt's stroke 2 years ago, Yvette has, "as caregiver and wife learned to manage…medical appointments, lawn care, repairs and finances," all while continuing to work full time. Sadly, this is reality for so many family caregivers.

"The hardest thing has been the financial loss out of our household…I use over $1,000 from my paycheck monthly to cover what Walt's retirement and social security disability checks do not cover."

This Valentine's Day, we are reminded of the incredible labor of love that family caregivers across the country provide for their spouses, parents, siblings, and others every day. Stories, like Yvette and Walt's, demonstrate the need for a caregiver tax credit to support families struggling with the financial challenges of at-home caregiving.

In 2016, the average family caregiver spent almost $7,000 on out of pocket costs – all to help their loved ones remain at home and in their communities – where they want to be. However, we know that out of pocket costs vary.

According to a 2016 AARP report:

African American/Black family caregivers spent $6,600.
Hispanic/Latino caregivers spent about $9,000.
Asian American and Pacific Islander family caregivers spent almost $3,000.
Long-distance caregivers spent almost $12,000.
Those caring for adults with dementia spent over $10,000.
That's why AARP is fighting to make life a little bit easier for unpaid family caregivers and ease their financial concerns.

A Tax Credit for Family Caregivers
At the state level, AARP is advancing a model caregiver tax credit bill, which is one step to alleviate some of the financial challenges that family caregivers face.

Our model bill proposes:

A credit of 50% of eligible expenses up to $1,000;
A broad definition of eligible expenses that includes improvements to the home, purchase of equipment to assist the care recipient, or other goods, services, and supports, like home care aides, respite care, and assistive technology;
To benefit family caregivers who earn less than $75,000 for an individual/$150,000 for a couple and are related to the care recipient; and
To help qualified care recipients 18 years or older who need assistance with at least one Activity of Daily Living (ADL).
Where Does Your State Stand
Currently, the Arizona, Massachusetts, New Jersey, and Wisconsin state legislatures are considering new tax credit bills. In Maine, Ohio, and New York, AARP state offices continue to push the issue forward.

All family caregivers deserve to feel financially secure as they continue to provide love and support to their loved ones. Caregivers, like Yvette, should not have to worry about rising out of pocket costs for therapies, medical equipment, home modifications, and other supports while they focus on aiding their loved ones.

Yvette said, "I personally feel a huge sense of responsibility because who would do this if not me?" At the federal and state levels, AARP is dedicated to making responsibilities just a little bit easier for caregivers like Yvette, and a state caregiver tax credit is an important first step to help.

To stay up to date on our work in your state, and nationwide, sign up for our e-alerts AARP Advocates e-newsletter, follow me on Twitter @roamthedomes, or visit your state Web page.


---

Elaine Ryan is the vice president of state advocacy and strategy integration (SASI) for AARP. She leads a team of dedicated legislative staff members who work with AARP state offices to advance advocacy with governors and state legislators, helping people 50-plus attain and maintain their health and financial security.