Help for Family Caregivers
By Elaine Ryan , July 21, 2014 01:28 PM
While traveling to Erie, Pa., for a town meeting on family caregiving, I was reflecting on my family roots. A little more than 100 years ago, my Lithuanian grandparents immigrated to America and made Shenandoah, Pa., their first hometown. My grandfather worked in the coal mines and my grandmother, fluent in six languages, worked various jobs while raising five children - one of whom was my mom. My grandparents taught me about hard work and perseverance, and my parents taught me all I'd ever need to know about unconditional love and family caregiving.

Family Caregivers in Pennsylvania
In Pennsylvania, family caregivers are the keystone of the state's long-term care system, helping their mothers, fathers, husbands and wives live independently at home - as opposed to in costly nursing homes. Each year, an estimated 2.7 million Pennsylvania caregivers provide nearly $20 billion in unpaid care for their older loved ones.
The recently released AARP Scorecard, Raising Expectations: A State Scorecard on Long-Term Services and Supports for Older Adults, People with Physical Disabilities, and Family Caregivers, found that Pennsylvania ranks 42nd in the nation regarding its support for older Pennsylvanians and their family caregivers. While some improvement to provide better, higher-quality programs and services has been achieved in the past several years, the pace of change is too slow to meet the rising demands of future generations.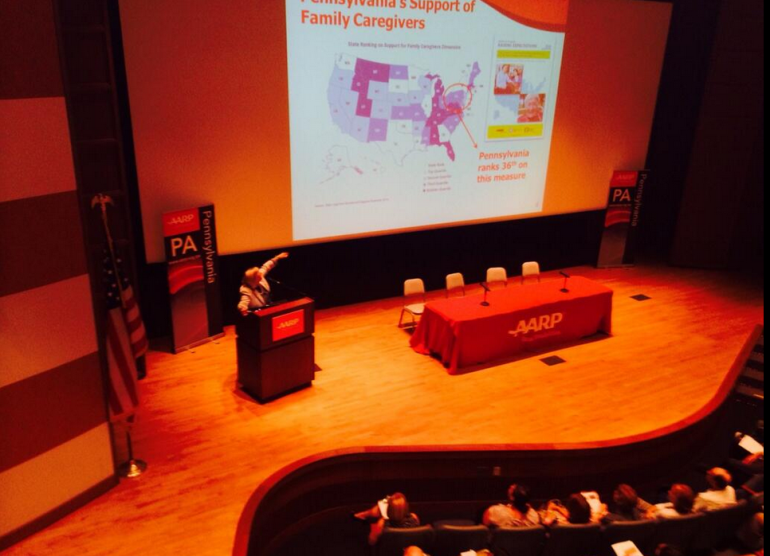 During the town meeting, one panelist put it this way: "They can't build facilities fast enough to meet the demands of boomers - and I'm one of them! We need new options to provide care at home." Here in Pennsylvania, and in many other states, there are commonsense solutions that can be achieved to support family caregivers as they:
help keep their loved ones safe at home
perform medical/nursing tasks, and
juggle work and caregiving
Family caregivers keep their loved ones safe at home
Room for improvement: The vast majority of older Americans want to live in their homes as they age, but many seniors and their family caregivers need some help to make aging in place a reality. While states across the country, including Pennsylvania, provide services at home and in the community, resources are often too scarce, if available at all. States should make available more:

home health services by skilled professionals like nurses and physical therapists
respite care and training for family caregivers
help with household tasks
transportation and meals, and much, much more
Action needed: The good news is, providing this care at home costs states just a fraction of the price tag for institutional care, like nursing homes. By shifting resources toward care at home and in the community - and away from costly institutions - states can help more of their residents live at home as they age. That's the setting older Pennsylvanians prefer.
During the town meeting, I heard from many family caregivers who are working hard to help their loved ones live independently at home. Roberta, a caregiver from Erie, had this to say:
Family caregivers perform medical/nursing tasks
Room for improvement: Part of supporting family caregivers is making sure they have the information and training they need when their loved ones go into the hospital and as they return home. Today, almost half of the nation's 42 million family caregivers perform complex care responsibilities for their loved ones that were once provided only by medical professionals. These medical or nursing tasks include:

managing multiple medications
providing wound care and managing special diets
operating monitors or other specialized medical equipment
Action needed: This year AARP developed the Caregiver Advise Record Enable (CARE) Act, which is now law in Oklahoma. By passing the CAREGIVING-CAREAct-OnePager-Design-NATIONAL 2-18-14, Pennsylvania - and other states - could ensure:

The name of the family caregiver is recorded when a loved one is admitted to a hospital or rehabilitation facility.
The family caregiver is notified if the loved one is to be discharged to another facility or back home.
The hospital must provide an explanation and instruction about the medical tasks - such as medication management, injections, wound care and transfers - that the family caregiver will perform at home.
Family caregivers juggle work and caring

Room for improvement: Each day family caregivers face loss of pay - or loss of their jobs - if they need to care for their loved ones. Yet they still do remarkable things, juggling their work and caregiving tasks. In Pennsylvania, as in many other states, family caregivers are in need of stronger workplace protections.
Action needed: Policies like family leave and paid or unpaid sick time give family caregivers the opportunity to manage their caregiving responsibilities - without having to choose between their jobs and their loved ones.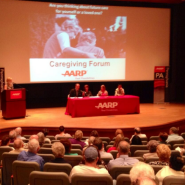 Special thanks to AARP Pennsylvania for hosting the town meeting for caregivers; to Traci Teudhope, the wonderful town hall moderator from WJET-TV; the panelists; and all of the family caregivers who took time out of their busy day to join us.
Follow me on Twitter @RoamTheDomes for more news on caregiving and other AARP advocacy initiatives across the country.
For family caregivers, keep in mind: You're not alone.