How Much Have You Saved for Retirement?
By Elaine Ryan, August 03, 2015 09:59 AM
How much have you saved for retirement? Five hundred dollars? Five thousand? Fifty thousand? If you have even $5 saved, you're one step ahead of nearly half of working-age households — who have ZERO saved for retirement.

This startling fact is just one of the reasons AARP is fighting for Work and Save, a commonsense solution to help individuals save toward a secure retirement through an easy payroll deduction at work — an option not available to many employees. Work and Save is:

Portable from job to job
Easy to use
Provides employees choice on how and how much they save
Gives small businesses a competitive edge
And more!

Work and Save benefits states, too
Work and Save isn't just great for employers and employees, but states too. This week, I'll be joining over 1,000 policymakers in Seattle at the annual legislative summit convened by the National Conference of State Legislatures to share some of the many benefits of Work and Save for states.

Work and Save plans are intended to be self-sustaining and will be 100 percent participant-funded after start-up costs — meaning no ongoing cost or risk for states.
Work and Save makes it easier for people to build their own private retirement savings rather than having to depend on taxpayer-funded government services.
It's fitting to discuss Work and Save in Seattle: Just this year Washington became the second state in the nation, following Illinois, to pass Work and Save. The state's version of the plan creates a Small Business Retirement Marketplace so employers can offer savings plans to their employees at work.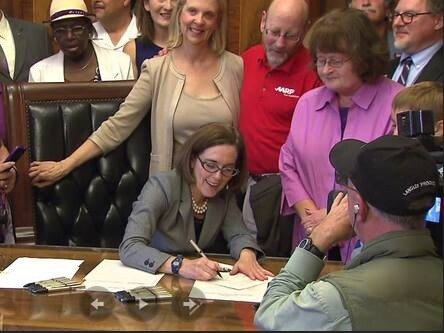 A Work and Save plan for Oregon
Just this month, Oregon became the third state in the nation to pass a Work and Save plan. On the passage of the bill, Oregon State Treasurer Ted Wheeler shared:

"The bottom line is this: If we could not find ways to help Oregonians voluntarily save for their own retirement, the consequence would be increased burdens on costly social services."

Which state will be next?
States across the country are recognizing the need to take action and are stepping up to help their residents retire with confidence.

As recently featured in the New York Times, California has been working on a retirement savings plan to help its citizens save for the future.
In New Jersey, a bipartisan bill has been introduced in the state legislature and will likely be considered this fall.
Follow me on Twitter @RoamTheDomes for live coverage of the NCSL and more news on Work and Save. To stay up to date on our advocacy in the states, sign up for the AARP Advocates e-newsletter or visit your state Web page.


---

Elaine Ryan is the vice president of state advocacy and strategy integration (SASI) for AARP. She leads a team of dedicated legislative staff members who work with AARP state offices to advance advocacy with governors and state legislators, helping people 50-plus attain and maintain their health and financial security.