How We're Fighting for You in 2016
By Elaine Ryan, January 11, 2016 09:05 AM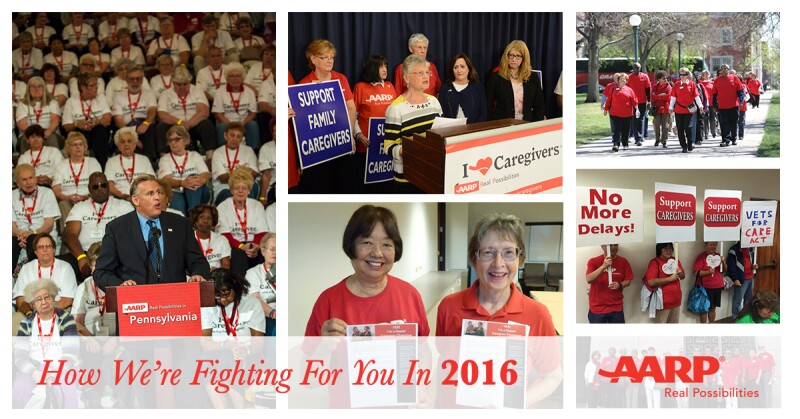 This month, as state legislative sessions start kicking off across the country, AARP, too, will go to work — fighting for you and your family. In all 50 states, Washington D.C., Puerto Rico and the U.S. Virgin Islands, we'll be fighting to make sure your voice is heard, focusing on the key issues you're facing front and center, in your daily life.

Enhancing Retirement Security
Today, 55 million Americans have no access to a retirement savings plan at work. Why is this so important? Employees that are able to save for retirement out of their regular paycheck are 15 times more likely to save. With nearly half of working-age households having nothing saved for retirement, a workplace savings plan is a critical tool.

This is why AARP is fighting for Work and Save plans — a convenient way to save for retirement through an easy payroll deduction. In addition to being good for employees, Work and Save also benefits:

Employers: The ability to offer a retirement savings plan gives employers, specifically small-business owners, a competitive edge.
States: Building up private retirement savings allows individuals to become less dependent on government programs.
Supporting Family Caregivers
Every day about 40 million Americans help their older parents, spouses, grandparents, aunts, uncles, friends and other loved ones live independently at home — where they want to be. These family caregivers bear a huge responsibility, and they could use a little help. Fortunately, we can take some commonsense steps right now that would have a real impact in their lives.

In 2016, AARP will fight to advance laws and policy changes that will support family caregivers and their loved ones, including:

Click here to find out about our AARP's work to support family caregivers.
AARP is also fighting to help people live independently in their homes in communities through a variety of efforts. Stay tuned for more on AARP's 2016 State Advocacy Agenda.

Follow me on Twitter @RoamTheDomes to learn more about the many other ways we are fighting for you and your family. And, to stay up to date on our AARP advocacy in the states, sign up for the AARP Advocates e-newsletter or visit your state Web page.


---

Elaine Ryan is the vice president of state advocacy and strategy integration (SASI) for AARP. She leads a team of dedicated legislative staff members who work with AARP state offices to advance advocacy with governors and state legislators, helping people 50-plus attain and maintain their health and financial security.

Follow Elaine on Twitter: @RoamTheDomes