How will boomers' economic anxiety affect their vote?
By Khelan Bhatia , August 08, 2012 10:59 AM
It's August. Your thermostat has likely cracked 100 degrees. But hopefully, you're on vacation with your families or watching the Olympics (Go USA!!) in a cool place with a cold beverage in hand.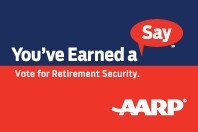 And I bet that if you live in a battleground state, there's something else you want a vacation from: the endless parade of political ads between now and November 6th.
Most candidates seem too busy beating up one another to tell us where they really stand on the issues that matter. So we decided to ask 50+ voters directly about their economic concerns - and the results revealed concerns that haven't been explored in depth before.
Conventional wisdom says that (1.) the 50+ vote, while not monolithic, is not a demographic to be taken for granted and (2.) the election will focus on jobs and the economy. Sound about right? Well, yes, the 50+ vote should absolutely not be taken for granted. And, yes, especially since the national unemployment figure is over 8%, the issue of jobs and the economy will likely dominate the debate. But, just like the 50+ vote, this issue is far more complex than the headlines.
Non-retired boomers, regardless of their political leanings, have an "anxiety index" that goes far beyond not finding a job or fear of losing the job they have. They're worried about prices rising faster than their income, paying too much in taxes, their health expenses and not having enough saved for retirement.
In fact, boomers are downright pessimistic about retiring: 72% believe that they're going to have to delay retirement, 65% worry they won't have enough to retire, and 50% don't think they'll ever be able to retire. As a result, 6 in 10 boomers say they plan on relying on Social Security and Medicare more than ever.
It's unsurprising that, across party lines, voters 50+ overwhelmingly want whomever is elected to strengthen Medicare (88%) and Social Security (91%). And 91% want Republicans and Democrats to come together to find common-sense solutions.
Voters 50+ are exactly split in who they want for President (45% Obama - 45% Romney) and closely divided on their congressional preference (43% Democrat - 39% Republican). Behind those numbers, they think political gridlock has negatively affected their economic circumstances (78%) and that candidates have done a poor job explaining their plans to address the issues.
So what's AARP's role in this election? We have a proud 26-year tradition of providing non-partisan information so voters can make informed decisions and choose candidates that best fit their values. We don't endorse candidates, give money to campaigns, or have a Political Action Committee. We're here to give you straight answers about what's on the table in Washington and urge candidates to say how they would strengthen Social Security, Medicare and financial security for current and future generations. Get the facts and make your voice heard at earnedasay.org.