Landmark State Law Will Help Millions Retire With Confidence
By Elaine Ryan, October 03, 2016 11:55 AM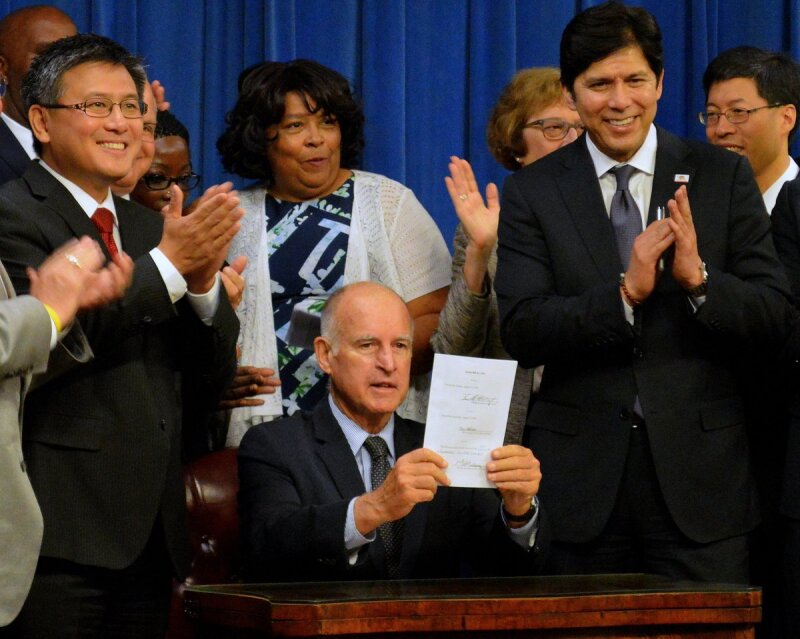 Great news out of California: A new state law will help nearly 7.5 million workers retire with confidence. Signed by Gov. Jerry Brown on Thursday morning, the California Secure Choice Retirement Savings Act (Senate Bill 1234) will give millions of Californians a way to save for their future at work.

It has been a long road to get to this day, and the AARP California Office has been a key leader every step of the way!

California state Sen. Kevin de León first introduced legislation to improve retirement security for California workers as a freshman member of the Assembly in 2008.
In 2012, he successfully championed SB 1234, which created the Secure Choice Retirement Savings Investment Board, a panel of experts chaired by the California state treasurer, to examine the retirement plan's feasibility.
In January 2016, the board's independent financial analysis found the retirement plan financially viable, self-sustaining and legal.
And, finally this year, the legislature passed and the governor signed the California Secure Choice Retirement Savings Act.
Here's how Secure Choice works:

California Secure Choice allows employees who work for an employer with five or more employees that does not provide a retirement plan the opportunity to be automatically enrolled in the Secure Choice Retirement Savings Program for 3 percent of the worker's income.
Any employee who does not want to participate can opt out.
The retirement account will stay with the employee from job to job throughout their career.
Employers will be responsible only for setting up the payroll deduction. There is no requirement for an employer match, and employers have no liability for an employee's decision to participate in or opt out of the program.
Why is the California Secure Choice Retirement Savings Program so important?
It's a fact: Retirement security is grim for many in California and across the country:

Over 75 percent of Californian's low- to moderate-income retirees rely exclusively on Social Security, leading to significant economic hardship.
Workers are 15 times more likely to save if they can do so via payroll deduction.
In California, 68 percent of Hispanic workers and about 53 percent of African Americans lack access to a way to save at work. Minorities account for about 67 percent of the roughly 7.5 million employees without a workplace retirement plan.
What are people saying about Secure Choice?
Yes, Secure Choice will help millions of Californians have a more secure financial future and live the life they want in retirement. But don't just take my word for it:

Support for Secure Choice
This huge bipartisan victory for California workers didn't just happen overnight. The bill was introduced by Senate President Pro Tem Kevin De León this year, and its key supporters included: the Asian Small Business Association, the California Black Chamber of Commerce, the California Asset Building Coalition, the California Association of Nonprofits, Church IMPACT, the Los Angeles Latino Chamber of Commerce, the National Council of La Raza, SEIU California, Small Business Majority, Young Invincibles and more.

At the bill signing last week, de León cited AARP as an organization that went above and beyond to help get this legislation passed and said, "Thank you for what you have done for all of us."

This victory also wouldn't have been possible without the incredible dedication of our thousands of volunteer activists in California, who played a critical role in voicing their support for this landmark legislation.

Next steps
The signing of the California Secure Choice Retirement Savings Program is just the first step. We will focus on working through the process of implementing this new program. To stay updated, visit SecureChoiceCA.aarp.org.

Looking ahead to 2017, expect more than half the states to engage in the retirement security discussion. Stay tuned!

Follow me on Twitter @RoamTheDomes to follow along as AARP goes to work in state capitols across the country to ensure you can live the life you want in retirement. And to stay up to date on our AARP advocacy in the states, sign up for the AARP Advocates e-newsletter or visit your state Web page.


---

Elaine Ryan is the vice president of state advocacy and strategy integration (SASI) for AARP. She leads a team of dedicated legislative staff members who work with AARP state offices to advance advocacy with governors and state legislators, helping people 50-plus attain and maintain their health and financial security.