Luck isn't Enough – How to Save for Your Own Pot of Gold
By Elaine Ryan, March 13, 2018 10:26 AM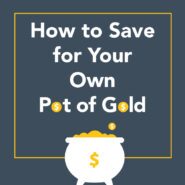 My Pop was fond of sharing this Irish Blessing with us – May there always be work for your hands to do. May your purse always hold a coin or two. We're all searching for that pot of gold at the end of the rainbow. Most of the time, though, we aren't lucky enough to just find it; we have to put our time, energy, and determination into earning it. Unfortunately, many Americans who work tirelessly throughout their lives have no way to save for retirement at work.

How many? 55 million. These employees often work for small businesses that don't offer traditional retirement plans, citing high costs and administrative burdens. Yet, national research shows that people are 15 times more likely to save for retirement if they can do so at work.

That's why AARP is pushing for Work and Save; state-sponsored retirement programs that make it easier for businesses to offer retirement options for employees – and for employees to take charge of their financial futures. As we're starting to see in states across the country, Work and Save is a win-win for employers and employees.

State Work and Save Programs
In 2017, Oregon was the first-in-the-nation to launch this innovative solution that lets employees save for retirement through payroll deductions, without any ongoing fees or risks for the employer. Since the launch of OregonSaves, about 4,500 Oregonians have already put away a total of nearly $1 million. See more here.

Other states are following suit – eight other states have already passed various Work and Save legislation including: California, Connecticut, Illinois, Maryland, Massachusetts, New Jersey, Vermont, and Washington.

A Glimpse Across the States
Hawaii
The Senate Ways and Means Committee recently advanced a bill that takes the first step to create a Work and Save option for employers.
New Mexico
The state legislature has recently created the Retirement Income Security Task Force to study retirement insecurity, look at options to establish a Work and Save program for private employees, and will provide a recommendation this summer.

New York
Governor Cuomo included the Secure Choice Savings Program in his state budget proposal, and AARP is urging state legislators to include it in the final enacted budget. If companies participate, employees could invest in individual retirement accounts (IRA) through payroll deductions – without using taxpayer dollars.

Pennsylvania
The Pennsylvania legislature has created a task force to investigate ways that workers can more easily save for their retirement. A bi-partisan group of legislators, including the leadership of both political parties and AARP, recently announced the launch of www.retirementpa.com, a new site designed to help residents improve their retirement security.

South Carolina
AARP South Carolina has formed the Work and Save Task Force, which developed a framework called the Palmetto Retirement Savings Program. This program will make it easier for small businesses and nonprofits to create a private retirement savings account for employees.

Tennessee
Introduced in the Tennessee General Assembly, the Voluntary Retirement Savings Account bill, (SB1720/ HB 2051), would allow the State Treasurer to establish an employee retirement account program.

Virginia
The legislature has passed a resolution to study the feasibility and merits of a state-facilitated program for employers and their employees who do not have access to an employer-provided retirement savings plan.

Wyoming
The state Senate has passed the Retirement Income Security Task Force, which would submit a report on its findings, recommendations, and proposals to the joint Labor, Health and Social Services Interim Committee before December 2018. The House is currently reviewing the pending legislation.

AARP strongly supports retirement savings programs that will help all workers grow retirement savings so they can take control of their futures, deal with the rising cost of living, and be prepared for future life needs.

To stay up to date on our work in your state, and nationwide, sign up for our e-alerts AARP Advocates e-newsletter, follow me on Twitter @roamthedomes, or visit your state Web page.


---

Elaine Ryan is the vice president of state advocacy and strategy integration (SASI) for AARP. She leads a team of dedicated legislative staff members who work with AARP state offices to advance advocacy with governors and state legislators, helping people 50-plus attain and maintain their health and financial security.