New Survey Shows That America's Mayors and AARP Know What's Important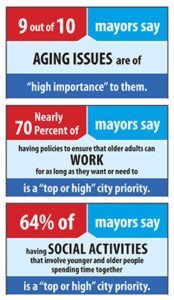 I spent time a few weeks ago with hundreds of our nation's mayors at the U.S. Conference of Mayors' 85th Annual Winter Meeting. In addition to listening to leaders like New York Mayor Bill de Blasio, Sen. John Cornyn (R-Texas) and Secretary of Transportation Anthony Foxx (during his final hours in that position) talk about the state of our cities, I shared the results of a survey AARP and the U.S. Conference of Mayors conducted last year.

In the survey, mayors from 108 communities of all sizes around the country provide valuable insight into how they are thinking about and planning for their cities' aging populations. (And make no mistake, our country — and nearly every community in it — is aging.) Mayors are very aware of this demographic reality and are starting to plan accordingly. An overwhelming 90 percent of mayors reported that aging issues are important to their cities, and over half — 60 percent — have established some kind of task force or initiative to address the challenges and seize the opportunities that come with this important shift. These mayors also have a keen sense for the local issues that have the biggest effect on older Americans' lives:

(1) Easy access to health care and supportive services

(2) More — and more affordable — housing options

(3) Accessible and affordable public transportation

(4) Increased police presence and communication between police and community residents

(5) Housing located close to stores, transportation, health care facilities and other community services

Achieving these goals would mean a safer, healthier, more productive and happier community for all of us — old, young and in-between. That's the really interesting thing about what we at AARP call livable communities: We're helping make the places where we live the kinds of places where everyone wants to live, where people of all ages and walks of life can thrive.

Mayors are also working to create vibrant social connections within their communities — making it easier for residents to get involved with their local government and with each other. Again, this kind of civic engagement helps people of all ages. Older residents stay engaged and are able to share a lifetime of experiences; younger residents put down deeper roots as they raise their families; and the youngest among us learn about the value of citizenship and neighbor helping neighbor.

In an era when too often our public discourse is hyper-partisan and divisive and our policymaking is gridlocked, I'm heartened to see so much positive action happening at the local level. At AARP, we see this firsthand as hundreds of our staff and thousands of our volunteers work side-by-side with mayors and local leaders in more than 230 neighborhoods, towns and cities across the country. Mayors and other community leaders are leading the charge — and we're working with them — to create places that are great for all citizens.

We are proud to have partnered with the U.S. Conference of Mayors in a robust dialogue about our communities and with America's mayors to help everyone achieve the health, wealth and self we all strive for.


---
Nancy LeaMond, chief advocacy and engagement officer and executive vice president of AARP for community, state and national affairs, leads government relations, advocacy and public education for AARP's social change agenda. LeaMond also has responsibility for AARP's state operation, which includes offices in all 50 states, the District of Columbia, Puerto Rico and the U.S. Virgin Islands.
You can follow her on Twitter @NancyLeaMond.
---
LEARN MORE ABOUT THE WORK OF AARP LIVABLE COMMUNITIES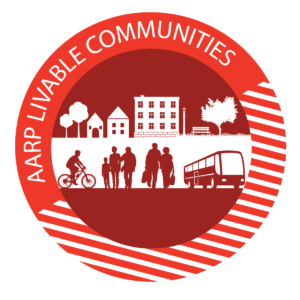 Visit AARP.org/livable
See which towns and cities are in the
AARP Network of Age-Friendly Communities
Subscribe to the free, award-winning
AARP Livable Communities e-Newsletter