Saluting Our Veterans — and Their Unsung Heroes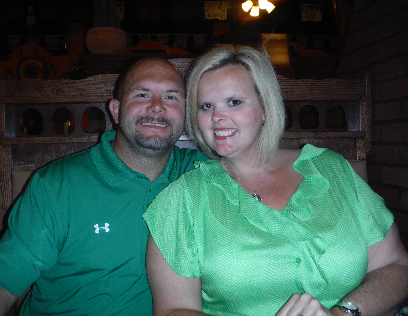 Eleven years ago, Allen returned from Iraq, having survived an IED blast that inflicted both significant physical and emotional harm. This military veteran, husband, and father of two young children now faced a life-changing, long and tough road to recovery. Standing by him, as she promised "in sickness and in health," is his wife of 16 years, Chasity. For this full-time teacher and mom, the day Allen came home, injured and anxious, her life was changed dramatically. She was thrust into a new, overwhelming role: caring 24/7 for her husband.
"He was injured by a IED blast and suffers from traumatic brain injury [TBI], post-traumatic stress [PTSD] and nerve damage to his hips and back. I help him with his daily activities but most of all I help him with time management and trying to keep his anxiety and anger levels low (not an easy job). I have devoted all my time as a full-time caregiver to my husband when he had a suicide attempt in 2010 after the sudden death of his father. The most challenging part of being a caregiver I would have to say is trying to juggle raising our two daughters and being able to attend all my husband's VA appointments. The only help I get is from my mother. She lives 30 minutes away and is always there in a moment's notice to help or just for me to get away for a breather (a.k.a. going to Walmart ... alone)."

Are you a family caregiver? Share your story 
and help us fight for family caregivers.

Military Caregivers
Out of the about 40 million Americans who care for parents, spouses and other loved ones, 5.5 million care for our veterans. Just like other family caregivers, these unsung heroes help with medication management, bathing and dressing, meals, driving to appointments and more. But they also help their loved ones with unique challenges, including PTSD, depression and traumatic brain injuries.
Bottom line: Family caregiving of any type — for your parents who are aging, children with a disability or a veteran battling injuries — isn't easy and can be emotionally, physically and financially draining.
Family caregivers need support
Right now, we have a unique opportunity to take commonsense legislative steps at the federal level to support America's family caregivers — unsung heroes like Chasity — and help make their big responsibilities a little bit easier.
Specifically, the Recognize, Assist, Include, Support, and Engage Family Caregivers (RAISE) Act, which passed the U.S. Senate in 2015, is being considered by the U.S. House. This bipartisan bill would create a national strategy to recognize and support family caregivers. AARP and 50 national organizations, including Paralyzed Veterans of America and the Elizabeth Dole Foundation, have endorsed the RAISE Family Caregivers Act. Now it's time to act.
This Memorial Day, as we honor the brave men and women who have given their lives to keep our country safe and free, I call for our nation to better support the unsung heroes, the family caregivers, who help keep our veterans — as well as older Americans and those with disabilities — living safely and independently in their homes and communities.

I urge you to contact your members of Congress and ask them to support America's
greatest support system: family caregivers. Call 844-259-9351 today.

To all those who have served and to all their families — and family caregivers — I thank you. I wish you all a safe Memorial Day.
Resources for Family Caregivers

---
Nancy LeaMond, chief advocacy and engagement officer and executive vice president of AARP for community, state and national affairs, leads government relations, advocacy and public education for AARP's social change agenda. LeaMond also has responsibility for AARP's state operation, which includes offices in all 50 states, the District of Columbia, Puerto Rico and the U.S. Virgin Islands.
You can follow her on Twitter @NancyLeaMond.