Small-Business Owners Agree: Secure Choice Is Right for Illinois
By Elaine Ryan , November 17, 2014 01:00 PM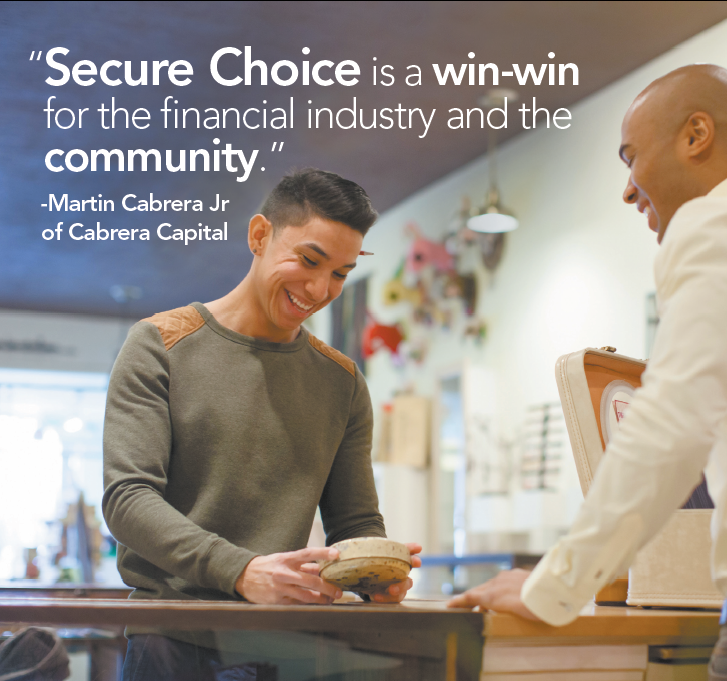 BREAKING UPDATE 12/2/14: The Illinois House of Representatives passed the Illinois Secure Choice Savings Program.
I want to bring your attention to something happening right now in Illinois that could give small businesses a competitive edge and help millions of Illinois workers have a secure financial future — but time is running out. Only three days remain for the state House of Representatives to pass the Illinois Secure Choice Savings Program and give over 2 million Illinoisans a pathway to a more secure retirement. We can't let this opportunity slip away. Let me share the details with you.
Today, the financial future for many Illinoisans is bleak:

Millions are facing a retirement deficit, outliving their retirement savings by an average of $57,000 per household.
The average Social Security benefit in Illinois is only $1,300 a month.
45 percent of working-age households have NO retirement savings.
Access to a retirement account at work increases savings rates by 1,300 percent.
Over 2 million Illinoisans don't have access to a retirement savings account through their job.
This is where SB 2758 could make a world of difference. Passed by the State Senate this year, the Illinois Secure Choice Savings Program would give more than 2 million Illinoisans a way to save for their future at work through an individual retirement account.
A Sun-Times editorial even called Secure Choice " One simple yet profoundly powerful solution." Here's why:
Great for Small Businesses
Secure Choice would allow businesses to both gain a competitive edge and help their employees save. These small-business owners agree:
"Any employer who cares about employees would want them to have something like Secure Choice." — Craig Sockwell, Rockford Transit & On The Rocks Bar and Grill, Rockford
"The Illinois Secure Choice Savings Program will allow my Small Company to provide a value added service to our employees, thus enabling them a convenient access to an investment in their future!" — Carolyn Hicks, Renaissance Adult Day Services, Chicago
Great for Illinois Workers

The Secure Choice Savings Program provides an easy way to save for your future on your own terms. Workers can decide how much, if any, they want to save and how they want to invest it.
Accounts are also portable, meaning you can bring it with you if you switch jobs.
Great for Illinois

The program is self-sustaining after participant-funded start-up costs, meaning no ongoing cost or risk for Illinois.
This is not a public pension and cannot add to the state's pension liability.
By building up private retirement savings, individuals become less dependent on government programs.

Bottom line: The Secure Choice Savings Program will build a more secure financial future for Illinois workers and give a competitive boost to small businesses.
The clock is ticking!
Only Dec. 2-4 remain for a vote to take place. Help make Secure Choice a reality in Illinois by calling AARP Illinois' advocacy hotline, 800-719-3020, and urging your legislator to vote yes on SB 2758. It's now or never to give over 2 million Illinoisans the financial security they need to take charge of their future and live independently as they age.
_____________________________________________________________________________________
Elaine Ryan is the vice president of state advocacy and strategy integration (SASI) for AARP. She leads a team of dedicated legislative staff members who work with AARP state offices to advance advocacy with governors and state legislators, helping people 50-plus attain and maintain their health and financial security.
Follow Elaine on Twitter: @RoamTheDomes.
_____________________________________________________________________________________
*Updated 12/1
Also of Interest

See the AARP home page for deals, savings tips, trivia and more.