Social Security Benefit Cuts Would Have Terrible, Horrible, No Good, Very Bad Impact on Women
By Josh Rosenblum , March 06, 2013 02:42 PM
The Social Security benefit cut known as Chained CPI remains a piece of the deficit puzzle for reasons that baffle conservatives, veterans, progressives, and almost everyone in between. The $85 billion in sequester cuts for 2013 have begun and many in Washington have still said they're willing to cut the modest Social Security benefits we've earned by $127 billion over 10 years, even though Social Security by law remains separate from the budget and its deficit. Let's give every woman and anyone who has or has ever had a mother, sister, daughter, grandmother, aunt or girlfriend a reason to despise this wretched proposal.
This week AARP began running ads about the impact of what the Chained CPI Social Security benefit cuts would mean to women. Below is a copy of one of those ads. In the weeks ahead we'll roll out new ads showing what the cuts would mean to other groups of people. I'll also come back with even more reasons we need to kill this proposal. For anyone that sees this as a generational effort, Social Security also provides benefits for girls and boys who have lost a parent, and older Americans overwhelmingly want to see Social Security in existence for the generations that come long after them.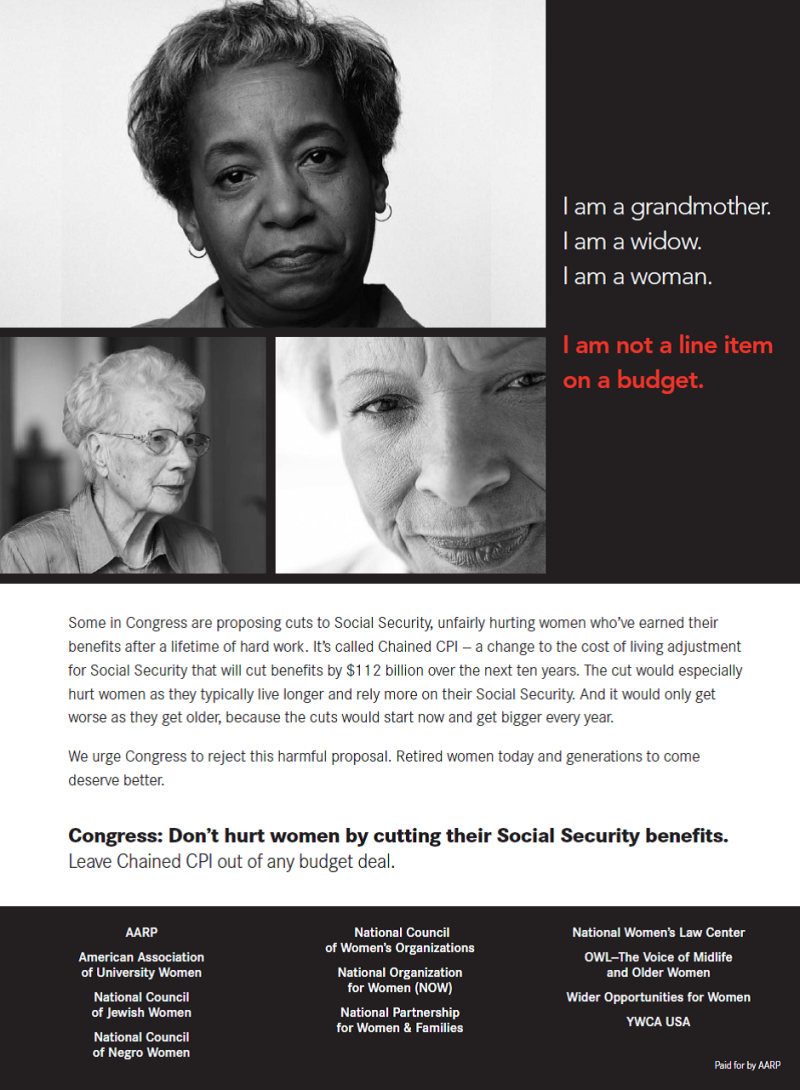 From AARP here are 5 reasons why the Social Security benefit cut known as Chained CPI would negatively impact women:
1. Women can least afford a cut in benefits. Women earn less on average than men, are more likely to work part-time, and are more likely to have gaps in their employment. All these factors result in lower average annual benefits for women (about $13,000) then men (about $17,000).
2. Women will face deeper cuts. The chained CPI would cut benefits more with every passing year, and women will see a greater share of these cuts since they tend to live longer and make up a larger share of the population as it ages. More than two out of three (68 percent) Social Security beneficiaries age 85+ are women.
3. Women rely more on Social Security for nearly all of their income. Women are less likely to have other sources of retirement income, such as pensions and savings, and rely more on Social Security for nearly all of their income. In 2010, 38 percent of older women age 80+ that lived in a family receiving Social Security relied on it for 90 percent or more of their income, compared to 28 percent of older men age 80+.
4. Social Security keeps women out of poverty. In 2011, Social Security kept roughly 38 percent of older women out of poverty, compare to 32 percent of older men.
5. It's less accurate. The chained CPI assumes that when the cost of something you normally buy goes up, you will substitute a lower-cost item. This theory falls short since many seniors spend much of their money on basic goods like heath care - items that rise faster than inflation and don't have lower-cost substitutes. The burden of health care spending is even greater for women (18.7 percent of income compared with 14.2 percent for men) because their benefits are lower and health care spending is higher.
To learn exactly what kind of cut the Chained CPI would take out of your income, see AARP's Chained CPI calculator here.