Spotlight: New Jerseyans Fight Back - and Win Against Higher Utility Bills
By Elaine Ryan , May 05, 2014 01:00 PM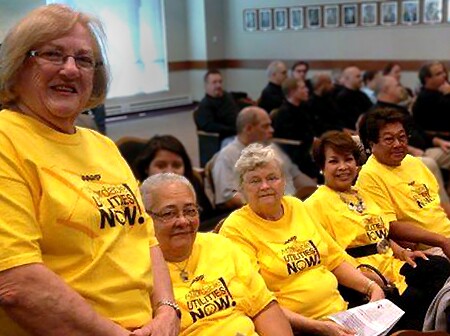 This is a true story of how New Jerseyans fought back against the largest proposed utility rate increase by the state's biggest gas and electric company in its century-long history - and won. Just last week, consumer advocates - including AARP - reached a settlement on "Energy Strong," a PSE&G proposal to harden its electric and gas systems following the tragedy of Superstorm Sandy. The settlement saves New Jersey utility customers $1.6 billion .
A culmination of a more than a year's worth of work by the staff of the New Jersey Board of Public Utilities (BPU), New Jersey Rate Counsel, AARP and others, the settlement ensures utility customers pay only fair and reasonable rates - for reliable service.
Here's what happened: In early 2013, PSE&G unveiled Energy Strong - a proposed 10-year program with a $3.9 billion price tag. The company wanted the BPU - the state agency responsible for overseeing utilities - to authorize spending for the first five years of the program to the tune of $2.6 billion. And then it would come back for the rest. AARP and other utility experts scrutinized the proposal. We learned it lacked detail, charged customers for undefined service improvements before work was finished, and wouldn't help all customers - among other concerns.
At AARP's request, Barbara R. Alexander, former director of the Consumer Assistance Division of the Maine Public Utilities Commission, testified before the BPU. She said:

 "The proposed investments are not designed to provide improved performance to most customers even during major storms. In fact, PSE&G's own analysis shows that 100 million customer hours of interruption would occur even with these investments under an event similar to Superstorm Sandy."


Advocates in Action
Even though we all agreed work needed to be done to protect New Jersey utility customers against another major storm, the price tag remained hefty and the plan still ill defined. So we continued to fight.
Intense opposition to Energy Strong - from consumer advocates and utility customers - ramped up. More than 12,000 AARP New Jersey members raised their voices against PSE&G's proposal. They testified at public hearings, signed petitions, sent emails, made phone calls and shared their stories:
"I can't buy food, the bill is too high. We have to pay PSE&G and stay without food." - Hackensack resident
"As a retiree on a fixed income, every increase in gas and electric costs causes another blow to a limited budget." - Secaucus resident
You may also be interested in: 6 things you don't know about your electric bill
Under the settlement agreement reached last week by AARP and the other parties in the case:
The company's request to increase bills on a monthly basis as they were spending on the project was rejected.
Customers will see no rate increases associated with the Energy Strong program in 2014.
Beginning in 2015, rates will be adjusted temporarily and subject to refund if the BPU decides, when it looks at PSE&G's base rates, that any part of Energy Strong was done contrary to good judgment.
A portion of the scheduled rate decreases PSE&G customers were to have received over the next few years will be preserved.
It ultimately saves New Jersey utility customers at least $1.6 billion.
"Now, Energy Strong will still allow for much-needed infrastructure improvements, but will also require the company do so in a smart, responsible and cost-effective way." - Evelyn Liebman, AARP New Jersey associate state director of advocacy

AARP continues to fight for utility customers in states across the country; find out what's happening in your state. Follow me on Twitter @RoamTheDomes for more news. And, to stay up to date on our utilities campaign, sign up for the AARP Advocates e-newsletter .