States Cut Red Tape to Give Nurse Practitioners More Authority
By Elaine Ryan, March 23, 2015 10:18 AM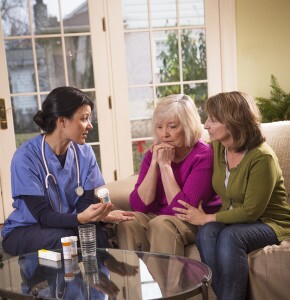 This month, Gov. Pete Ricketts and the Nebraska state legislature made a smart move to remove the barrier that had prevented nurse practitioners from providing complete primary care for their patients. By cutting through the red tape, these elected officials have made more primary care clinicians available for Nebraskans in a variety of settings such as at home and in the community, medical offices, businesses like Walgreens, Target and CVS, and some workplaces. Nineteen other states have similar laws in place.

Some experts say that enough primary care providers will not be available to handle the increasing number of patients. In my view, allowing nurse practitioners to provide complete primary care could help avert this crisis.

Keep in mind: Nurse practitioners have completed additional education and training at the master's or doctoral level. This means they're qualified to diagnose and treat patients, order and evaluate diagnostic tests, prescribe medications and more.

What happens when nurse practitioners face barriers?

I know firsthand the consequences of restricting nurses' ability to provide care. For nearly 15 years I helped care for my Mom and Pop — but not without help along the way. Nurse Sue, who would come visit my parents, was one of the reasons Mom and Pop were able to live independently at home, where they wanted to be.

Watch my family's story:




Having the support of Nurse Sue showed me without a doubt, nurses are lifesavers; I only wish Sue had been able to do more. Unfortunately, outdated laws created red tape that prevented Nurse Sue from adjusting mom's prescriptions or ordering a lift to help Pop get Mom out of her wheelchair and into bed.

If Sue had been able to practice to the full extent of her training, Mom and Pop would have been able to receive the primary care they needed at home, instead of making exhausting all-day trips to medical offices.

Cutting the red tape across the states

Today, 42 million Americans help care for their parents, spouses and others so that they can remain in their homes as opposed to costly institutions like nursing homes. AARP is continuing to fight to give nurses full authority to provide complete primary care, a commonsense solution so all Americans — especially family caregivers and their loved ones — have access to convenient, quality care when and where they need it.

Right now, we're working in California, Kansas, Maryland, South Carolina and other states to pass bills that would break down these outdated barriers. I'll provide more updates on where we stand in the legislative process over the coming weeks and months. Stay tuned.




---

Elaine Ryan is the vice president of State Advocacy and Strategy Integration (SASI) for AARP. She leads a team of dedicated legislative staff members who work with AARP state offices to advance advocacy with governors and state legislators, helping people 50-plus attain and maintain their health and financial security.

Follow Elaine on Twitter: @RoamTheDomes.