Supporting Seniors, Family Caregivers: Where Does Your State Rank?
By Elaine Ryan , June 23, 2014 04:03 PM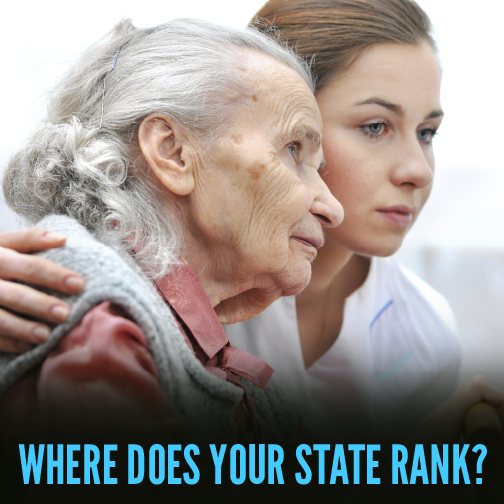 My sister always says, "If you fail to plan, you plan to fail." I was reminded of this adage when I heard Loren Colman, Minnesota assistant commissioner of continuing care, explain how Minnesota is consistently ranked at the top of the nation when it comes to providing support for seniors and their family caregivers. " We planned," he said. Indeed, Minnesota developed a plan decades ago to transform the way the state would deliver long-term care services to older residents in their homes and communities, instead of costly nursing homes.
In Raising Expectations 2014: A State Scorecard on Long-Term Services and Supports for Older Adults, People with Physical Disabilities, and Family Caregivers, by AARP, Minnesota , again, comes in first. This state Scorecard, an update to the first scorecard from 2011, ranks each state overall and within 26 performance indicators along five key dimensions:

affordability and access
choice of setting and provider
quality of life and quality of care
support for family caregivers
effective transitions.
What makes a state No. 1?
Not only did Minnesota plan, but the state committed to implement that plan, despite episodic changes in political control of the governor's office and state legislature. Minnesota's plan was deeply rooted in the values of providing quality care and delivering it in the way people want to be served. And Minnesota continues to adhere to these values, while innovating and refining their approach along the way to build a better Minnesota. Still, even though Minnesota ranks No. 1 in the nation for its support of seniors and their family caregivers, the state still has room to improve - as all states do.

Plan, Plan, Plan
The power of planning and executing shouldn't be underestimated. That's why I am particularly excited to see that Delaware, Mississippi, Hawaii, Kentucky, New Mexico and South Carolina have created legislative task forces on family caregiving, following advocacy by AARP state offices to do so. The task forces will assess the programs and policies in place to support family caregivers and to identify the priority needs for the future. Here are a few highlights:

Delaware: While Delaware ranks lower on the Scorecard at 29, the state is taking steps to care for its rapidly aging population with a Caregiving Task Force, created by the state legislature this year. Rep. Valerie Longhurst, D-Bear, the lead sponsor of the resolution, explained, "We need to determine what we as a state can do to help families with their aging relatives and make sure they have the care they need."
South Carolina: While South Carolina is ranked 34th in the Scorecard, the state is up from 38th and still improving with a Long Term Care Task Force in place and scheduled to make recommendations in January.
Kentucky: Coming in last at 51st, Kentucky is looking for ways to improve help for older and disabled residents and their family caregivers. The state has taken a step forward this year in passing a task force that calls for the state to produce a report on the help needed for family caregivers and the loved ones they assist.
As these task forces convene in the coming months, we urge them to chart a road map for action, because the pace of change in states must accelerate if we are to meet the demands of the aging population, including family caregivers.
Where do other states rank and how are they working to improve?
Here are a few highlights:

Maine: While Maine ranks 10th overall on the state Scorecard, much improvement can be made to support family caregivers - an indicator where the state ranked 29th, including: adding workplace protections, and following in the footsteps of Oklahoma by passing the Caregiver Advise, Record Enable (CARE) Act, which would help Maine's 191,000 family caregivers when their loved ones go in to the hospital and as they transition home.
Utah: AARP Utah is working to better support the state's family caregivers, an indicator in which the state ranks 50th. Moving forward, the state is look to improve respite care, allowing family caregivers to take a break and recharge; nursing scope of practice, allowing nurses to use all of their training to heal; and workplace protections, so family caregivers aren't in danger of losing their jobs while caring for a loved one.
Where does your state rank? Find out here:
http://www.longtermscorecard.org/
For family caregivers, keep in mind: You're not alone.